Bar Crusher 670HT – Fishing World
REVIEW: Bar Crusher 670HT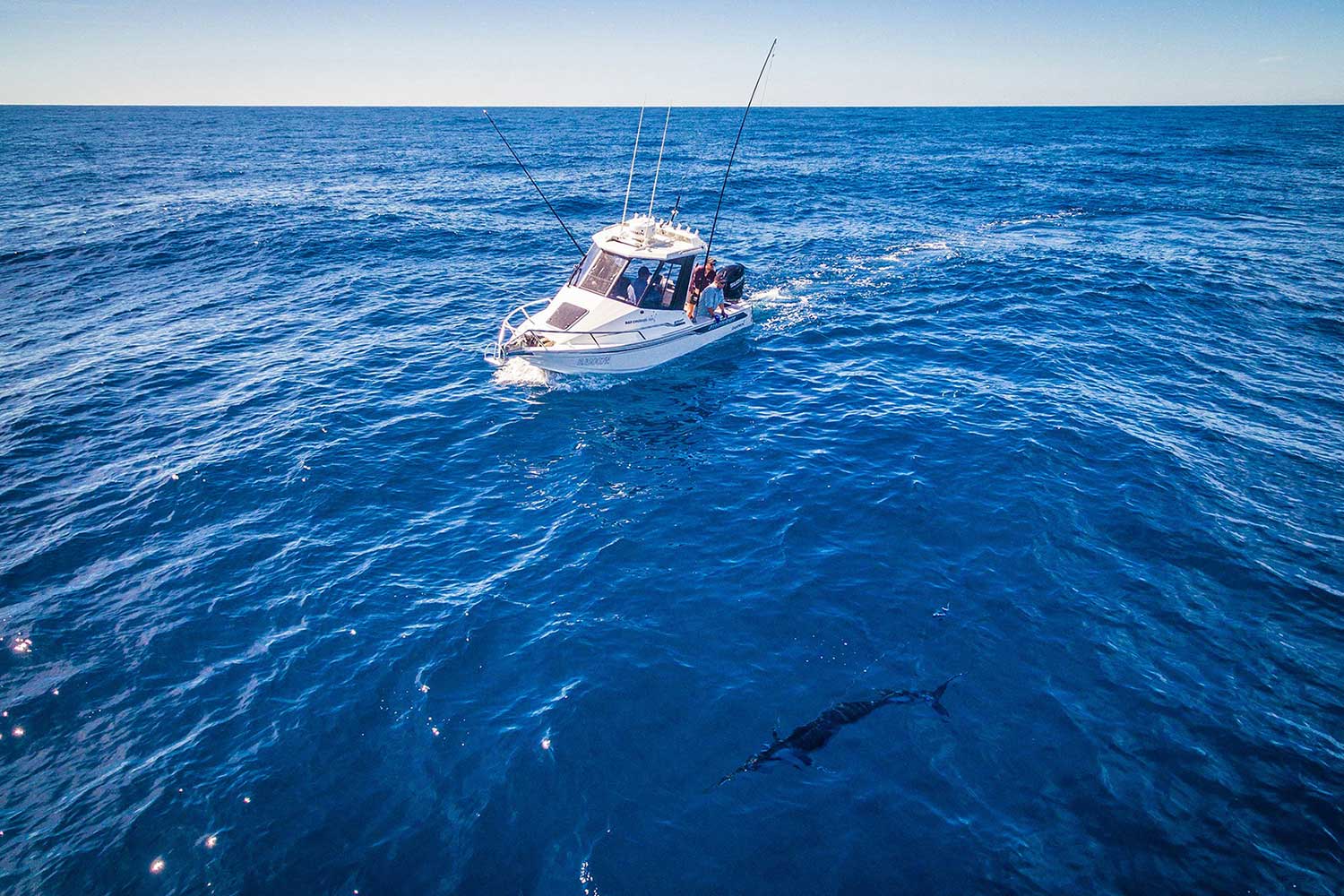 Making memories! A striped marlin close to the boat before being tagged and released.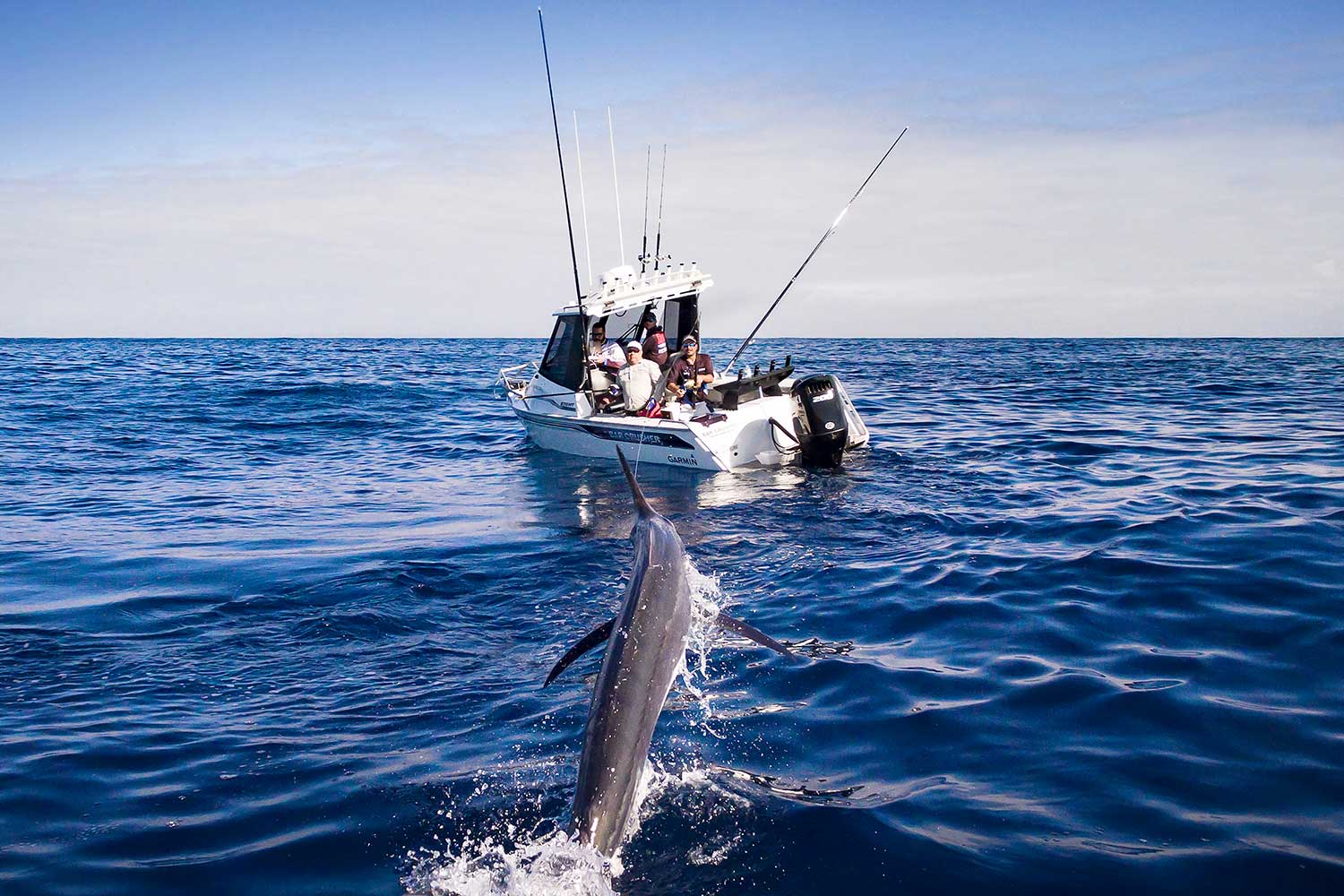 Sandman is always pushing the boundaries to create unique and engaging content. His mate Tim McGoldrick on the drone again!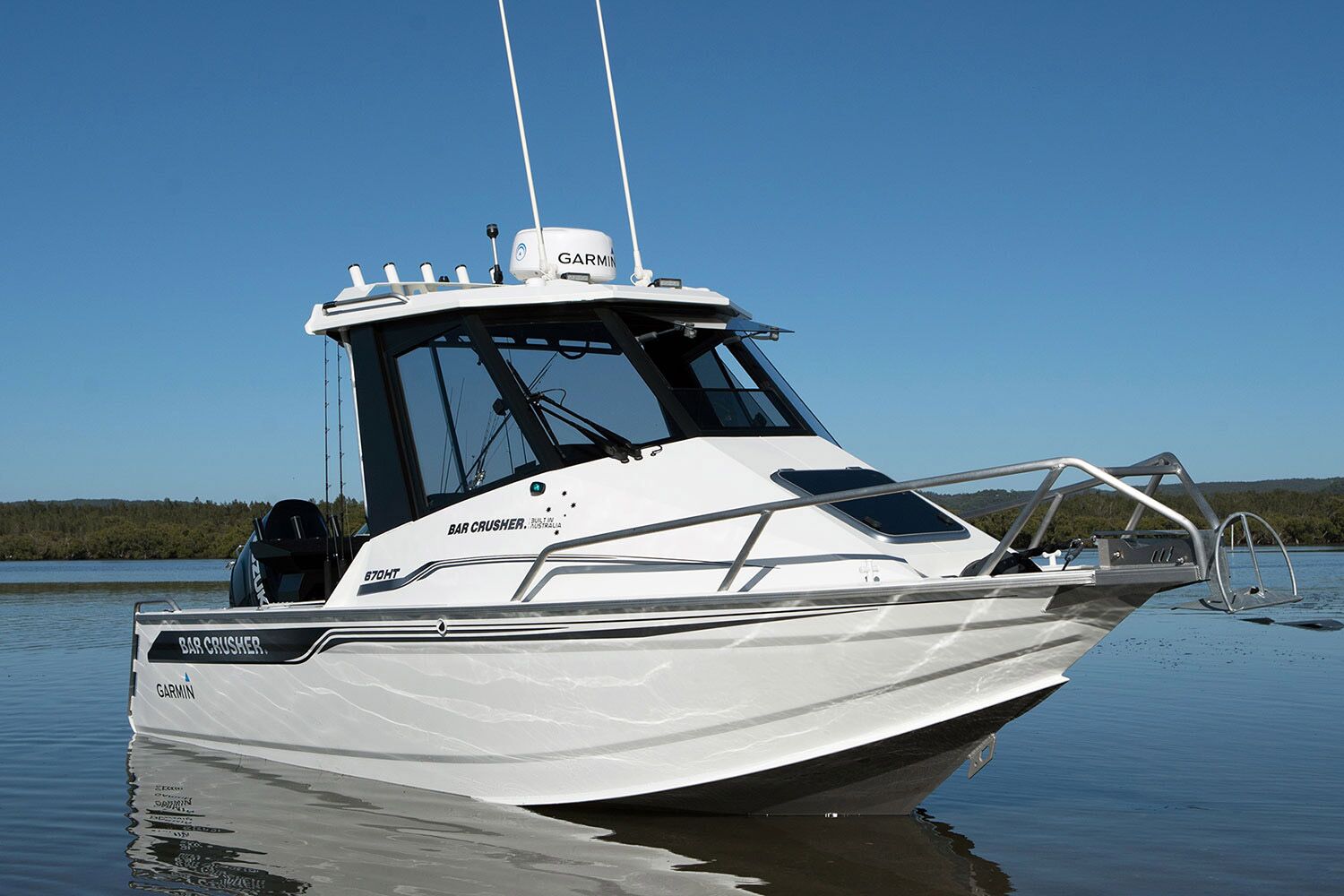 Bar Crusher's 670HT has an imposing presence on and off the water. It looks – and is – all business.
Game fishing is a team effort, with everyone onboard having a role – angler, deckie, skipper... and on this boat, a drone pilot!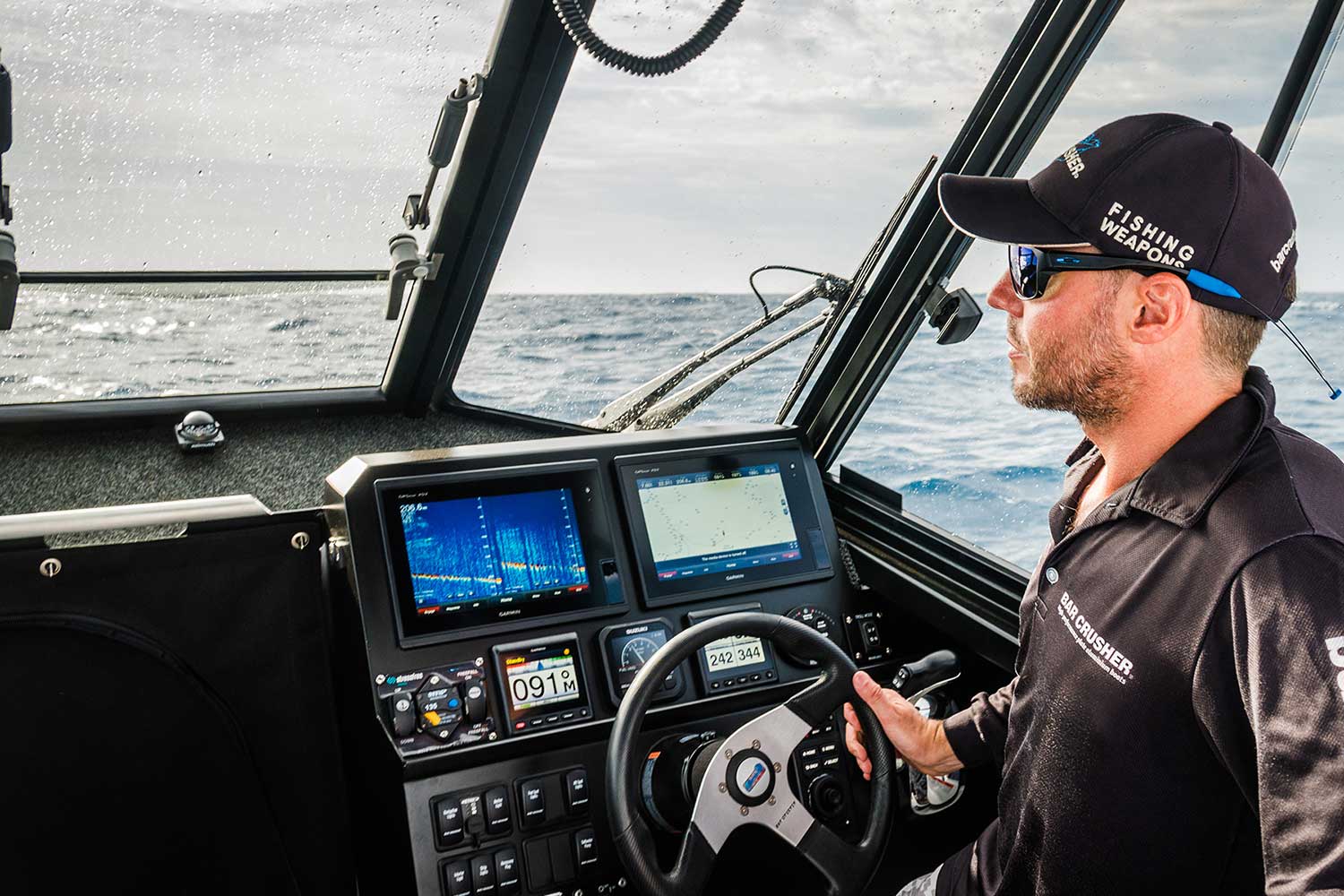 Having wound-in his share of marlin over the years, Sandman enjoys the strategic battle of driving on the fish these days.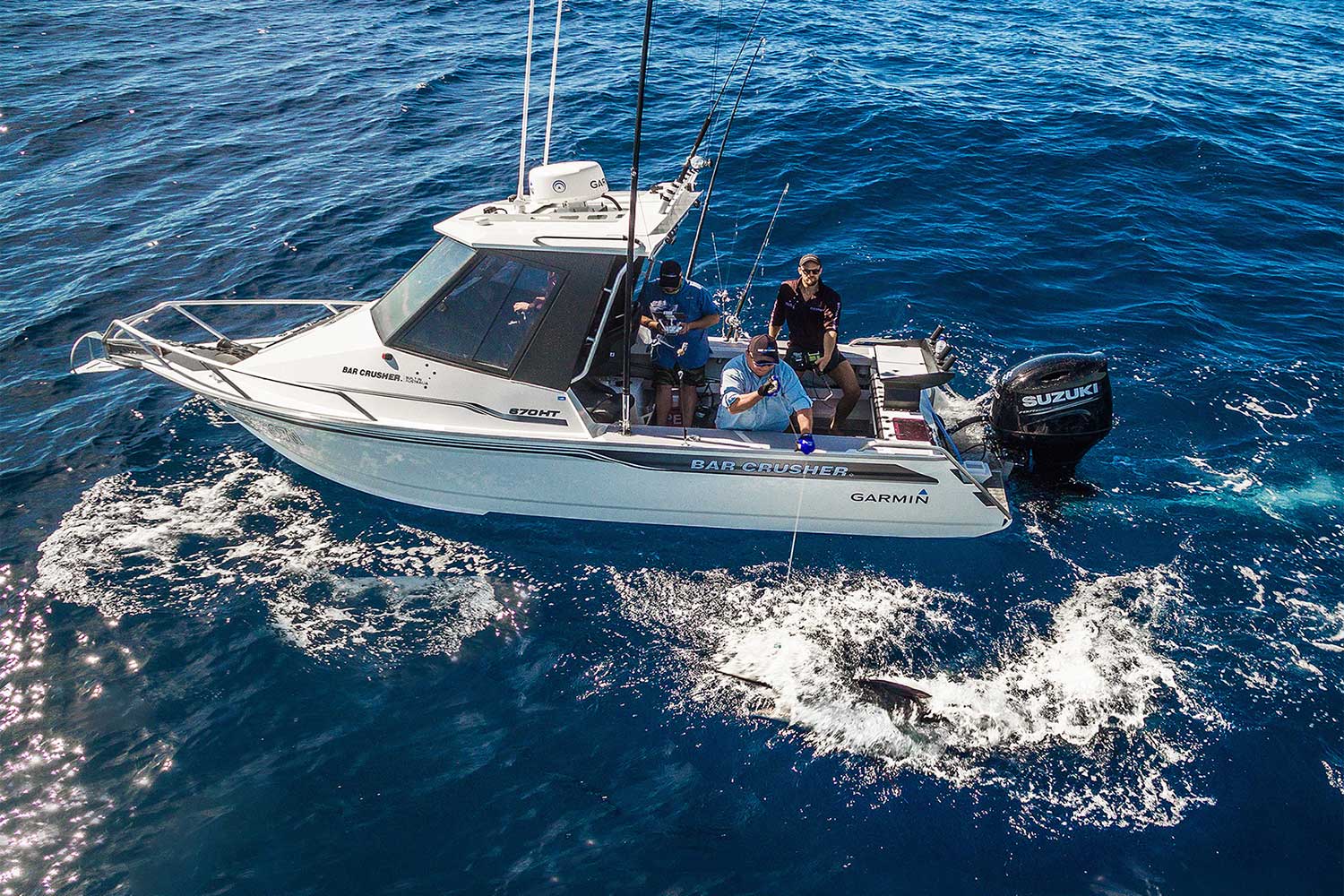 Fishing World publisher Chris Yu with another marlin on the leader.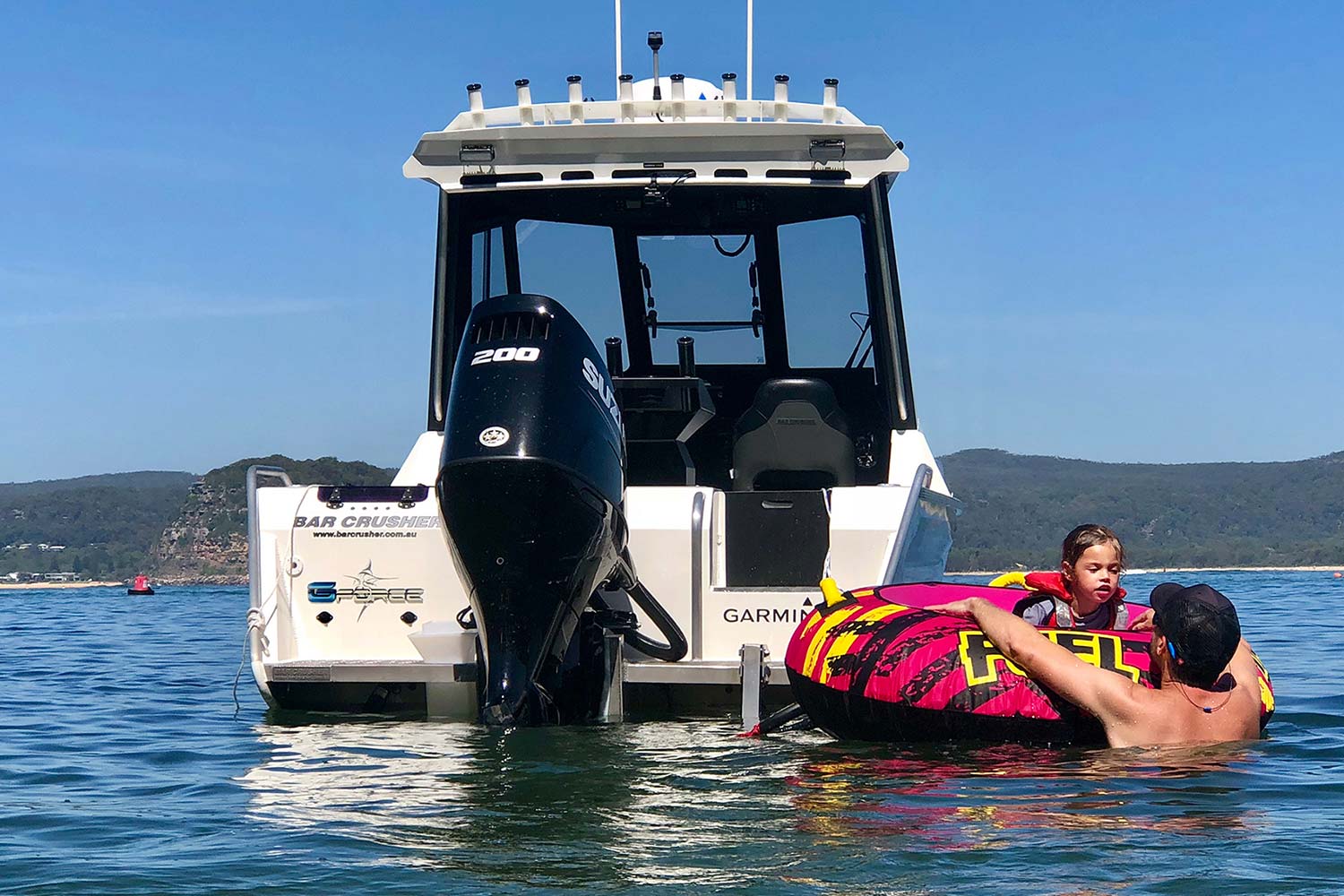 Fishing Weapon one day, family boat the next. Bar Crusher's 670HT is the ultimate all-rounder.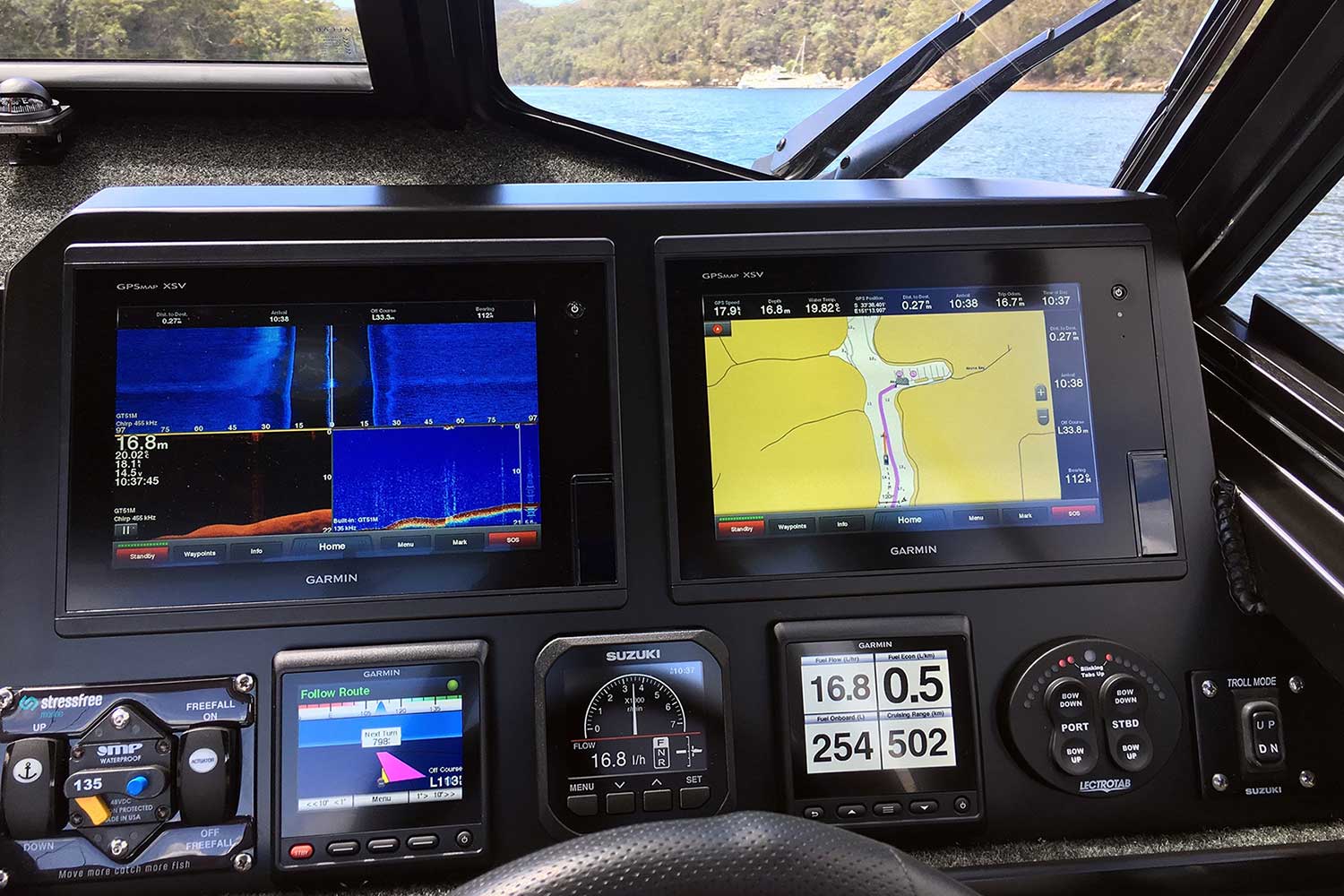 The helm of this Bar Crusher looks like the cockpit of a military helicopter!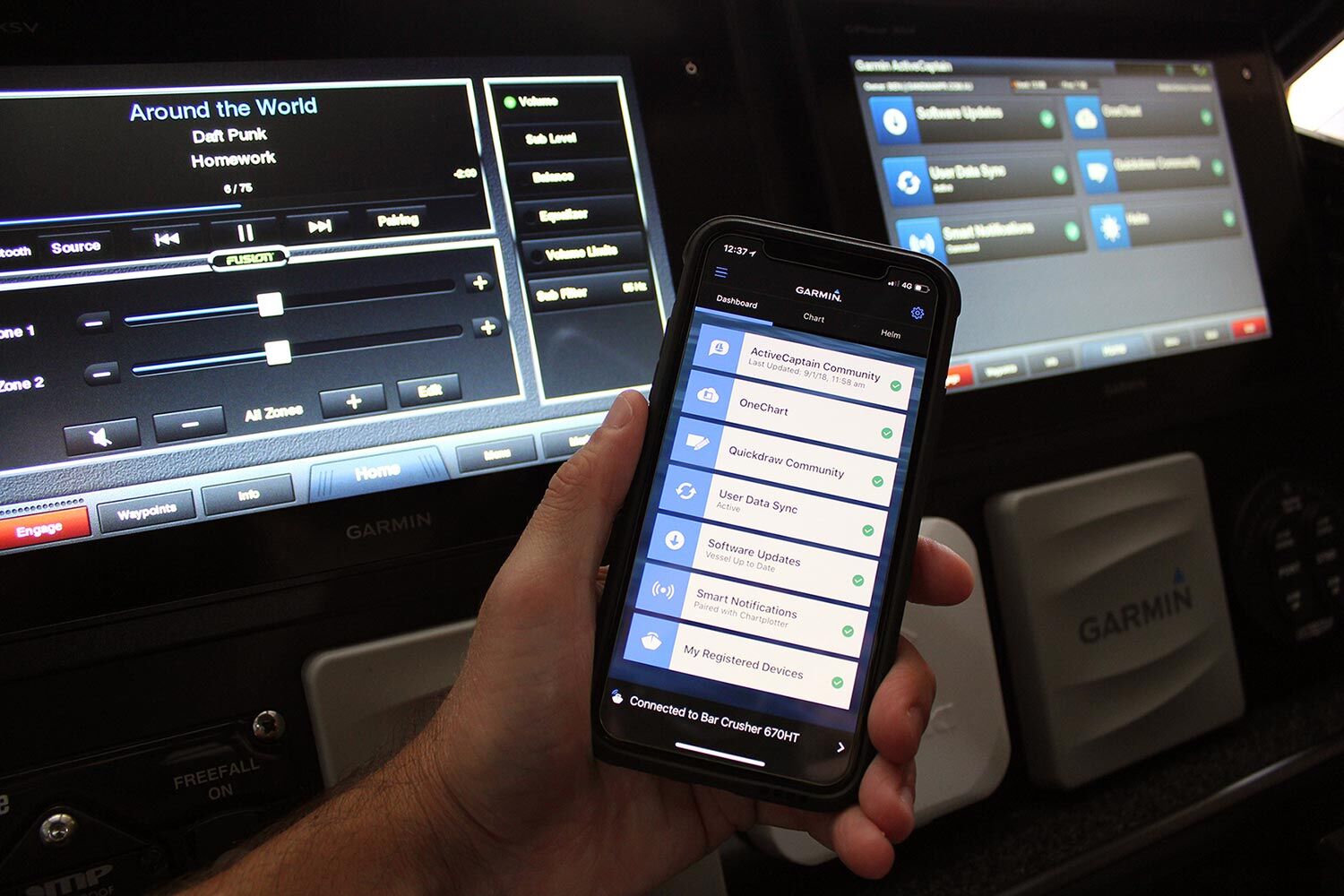 Garmin's ActiveCaptain app takes marine electronics integration to a whole new level.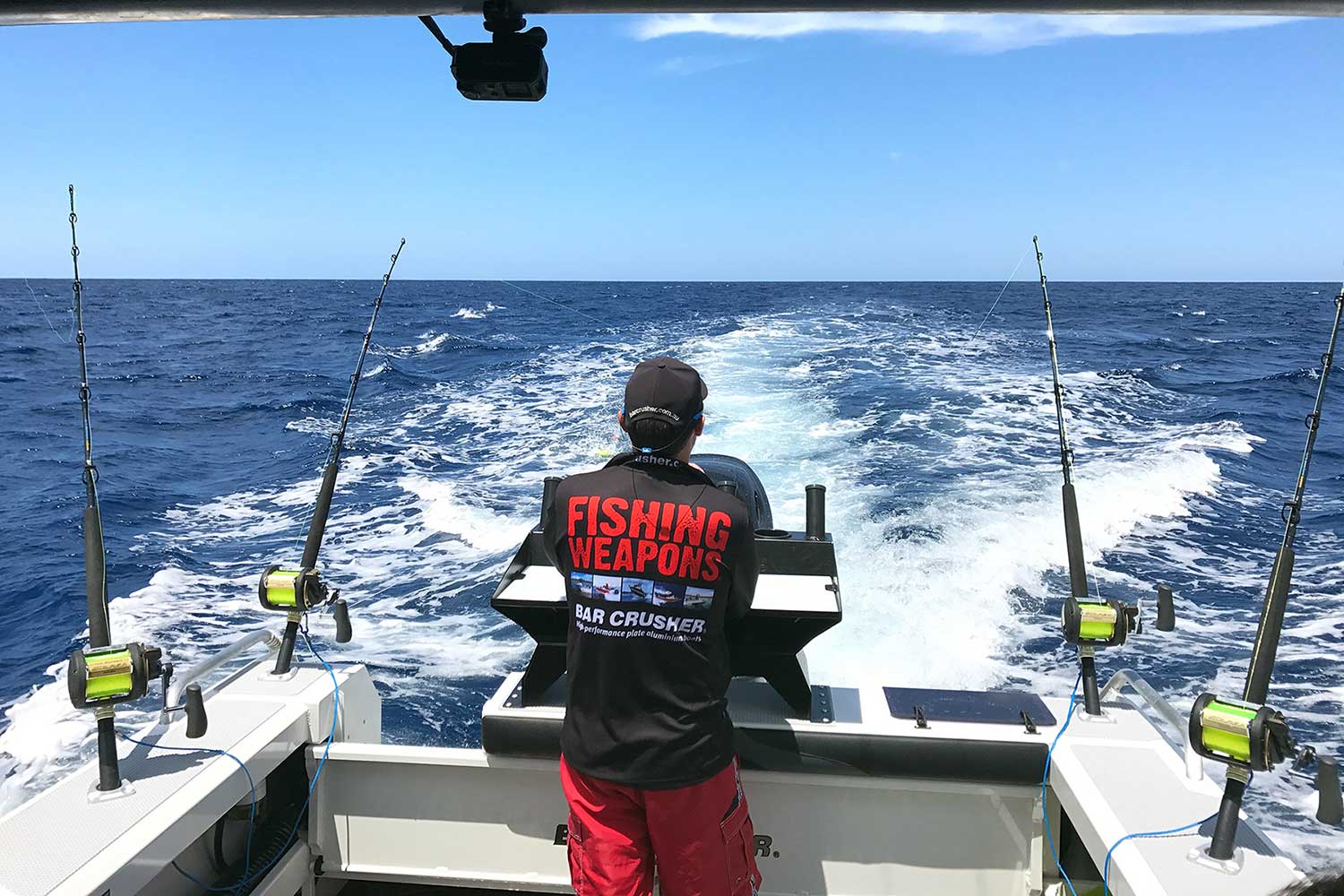 Action cameras are as much a part of fishing these days as tackle. Mounted on the hard top, this Garmin VIRB XE is hard-wired into the boat's power supply.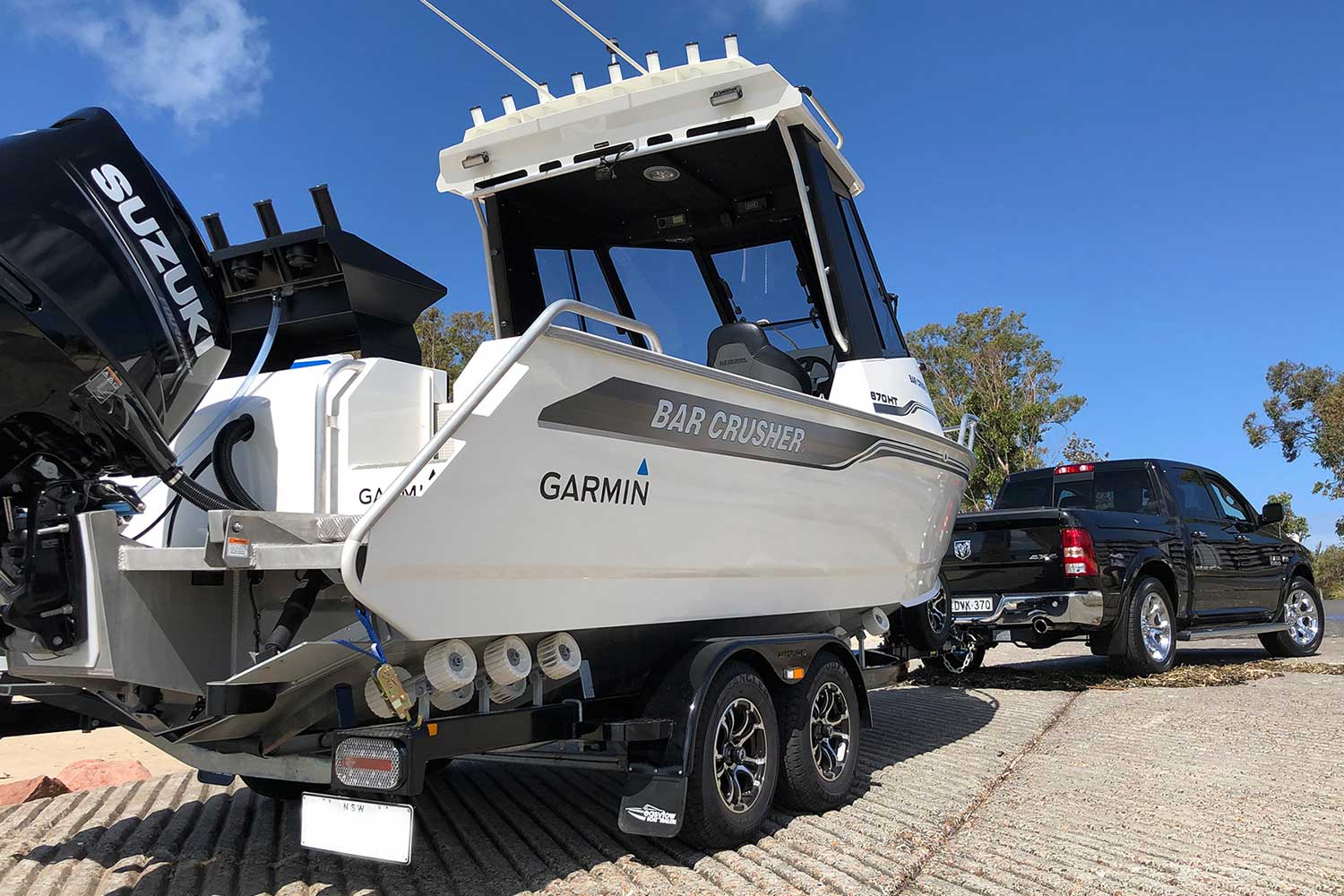 A custom-designed trailer and Bar Crusher's innovative Bar Catch system delivers hassle-free towing and single-handed launching and retrieving.
Fishing World takes a look at a fully-loaded Fishing Weapon that's built for action…
Long-time friend of Fishing World, Ben Sandman, changes boats almost as often as he used to change girlfriends. (That said, his catch-and-release partying days are campfire stories now he has a wife and three kids!)
A familiar face in the industry for over 20 years, Sandman worked through most of Australia's fishing/boating media from staff journalist to managing editor, prior to establishing and running a specialist marine PR/marketing company for over a decade. Needless to say, he's driven, fished from and written about more boats than many people are ever likely to set foot in.
With his level of insight into what makes a great fishing boat – and the experience and connections that have allowed him to pick and choose who he's worked with over the years – Sandman's firmly anchored as the marketing director for iconic Australian boat brand Bar Crusher.
It's no surprise then, his latest boat is another Bar Crusher 670HT – a high-performance plate aluminium fishing boat that's earned the title of one of Australia's Greatest Boats.
We've owned a few Bar Crusher boats here at Fisho too – including our latest, a 535XS – but we hadn't seen one as fully-loaded as this… until now!
ONTO THE NEXT ONE
Sandman's latest 670HT is the second he's owned in recent years. While he obviously had the choice of any model in the range, he said he just couldn't go past this boat.
"Growing up fly fishing for trout and casting lures in estuaries, and now [where we live] having access to marlin and tuna almost in our backyard, it was an easy decision to go for another offshore boat," Sandman said.
"A few mates have asked why I didn't upgrade to a 730HT or 780HT and the reason is there's nowhere I'd go in the bigger boats where I wouldn't be prepared to go in a 670HT.
"We were caught in some horrendous conditions offshore in my last 670HT and it handled it all safely and with ease… it's also very manageable as a family boat to explore the massive Hawkesbury River system, so for me right now it's the ultimate all-rounder."
GOING DEEPER
Bar Crusher's 670HT measures 6.70m LOA, with a 2.35m beam, and is constructed from 5mm (bottom) and 4mm (top sides) high-tensile marine grade plate aluminium. Like all models in the range, it features Bar Crusher's exclusive Waveslicer deep-V hull, super-strong Rigideck sub-floor system, and Quickflow water ballast technology.
The 670HT's design is all business. Ocean-going hull, spacious deck area, functional dash layout, all-weather hard top, slide-opening side windows, sizable cabin, plenty of storage and all the fishing-related features anglers need – livebait tank, baitboard/station, rod holders and more – fitted as standard at the company's Melbourne factory.
While a standard Bar Crusher boat package has everything required to head straight out fishing, Sandman's boat has a few more factory-fitted options including a centre-opening front window, windscreen wiper and washer, FishMat flooring, saltwater deckwash, Bar Flap (to close-off the water ballast cavity), StressFree anchor winch, lockable tackle boxes under the helm seats, fully-lined cabin and a zippered privacy curtain to the cabin.
On top of this, he's added a set of Reelax T-Topper outrigger bases and composite poles, as well as a downrigger.
It's worth noting too, that every Bar Crusher boat is factory-packaged on a custom-designed trailer, which ensures towing, launching and retrieving is a breeze. Self-centering and aligning perfectly every time, Bar Crusher's innovative Bar Catch system also allows for single-handed launch and retrieve. (This really does make life so much easier, whether we're launching our 535XS off the bank into a freshwater lake, or retrieving a boat like this 670HT at an ocean ramp.)
GOING FURTHER
Powered by a Suzuki DF200APX outboard, together with the substantial fuel capacity, this 670HT has a cruising range of over 270nm (500km+) at an average speed of around 20kt (approx. 40km/h).
As just one example, Fisho publisher Chris Yu was onboard last summer when they covered close to 135nm (250km) from Broken Bay up to the Norah Canyons and back. Around 90nm (170km) of this particular trip was underway at 22kt, with the rest trolling lures for marlin at about 8kt.
They experienced glamour conditions running out and while fishing (swell below a metre with a light breeze), and average conditions on the way home (large swell, confused sea and 20kt+ wind). With three people onboard, 270L fuel, plus icebox and fishing gear, fuel economy averaged 1.5km/L for the entire trip. The most economical cruising speed was 20-22kt (at 4000-4200rpm) and getting 1.8km/L.
The boat does around 40kt (75km/h) at WOT… but that's using 68L/h, as opposed to 20-22L/h at cruising speed.
The real sweet spot in this rig – when the engine's lean burn control system (air/fuel ratio) is operating at its most efficient – sees the Suzuki DF200APX using just 0.5L per kilometre travelled. Equating to 2km/L, that's better than one nautical mile per litre of fuel used.
GOING GARMIN
The marine electronics suite on this Fishing Weapon deserves special mention. Having used most brands of marine electronics quite extensively over the years, Sandman had his latest Bar Crusher fitted with Garmin gear.
The install includes twin GPSMAP 7410xsv touchscreen multifunction displays (MFDs), GRID remote control keypad, GMR Fantom 18 radar, GHP Reactor autopilot, GHC20 autopilot controller, GMI20 digital gauge, Suzuki digital gauge and Fusion RA70N stereo. All of this is connected via the Garmin Marine Network and FUSION-Link for complete system control using either of the MFDs; using a smartphone (with the Garmin ActiveCaptain app); or by a Garmin quatix marine GPS smartwatch via the onboard WiFi network. (Integration of marine electronics is next level these days… and this boat is case in point!)
There are also a couple of Garmin VIRB XE action cameras onboard. One is mounted on the rear of the hard-top and hardwired into the boat's power supply (a 128GB micro SD card recording 11 hours of continuous HD vision), and the other's attached to a telescopic selfie stick, which is used mainly for underwater recording when fish are near the boat. Even the VIRBs can be controlled via the MFDs, smartphone or Garmin quatix watch, to start/stop recording and take photos.
On the fishing side of things… for finding structure, thermoclines, baitfish and target fish in all levels of the water column, Sandman has two transducers on his boat. An Airmar TM265-LM 1kW CHIRP transducer is installed on the starboardside, while a Garmin GT51M-TM all-in-one CHIRP transducer (600W traditional, ClearVü and SideVü) is installed on the portside. Both are perfectly positioned to hold bottom at speeds well in excess of 30kt (55km/h) and they deliver exceptional depth, clarity, detail and target separation in a wide range of estuary, inshore and offshore conditions.
To top it off, Sandman also carries a Garmin inReach Explorer+ handheld satellite communication device onboard when heading wide of the Continental Shelf. We've used this device and it provides great peace of mind when you're way out of range of any other means of communication. It allows you to send and receive text messages, navigate your route, track and share your journey and, if necessary, trigger an SOS to get emergency help from a 24/7 global monitoring centre via the global Iridium satellite network.
BATTLE STATIONS
So, there you have it… Sandman's latest fully-loaded Fishing Weapon. Equally at home for summer boating with the family, trolling squid around the headlands for kingfish, casting soft plastics over inshore reefs for snapper or searching the bluewater for marlin, this Bar Crusher 670HT is built (and is always ready) for action!