Bar Crusher boats – early and late models
26 February 2021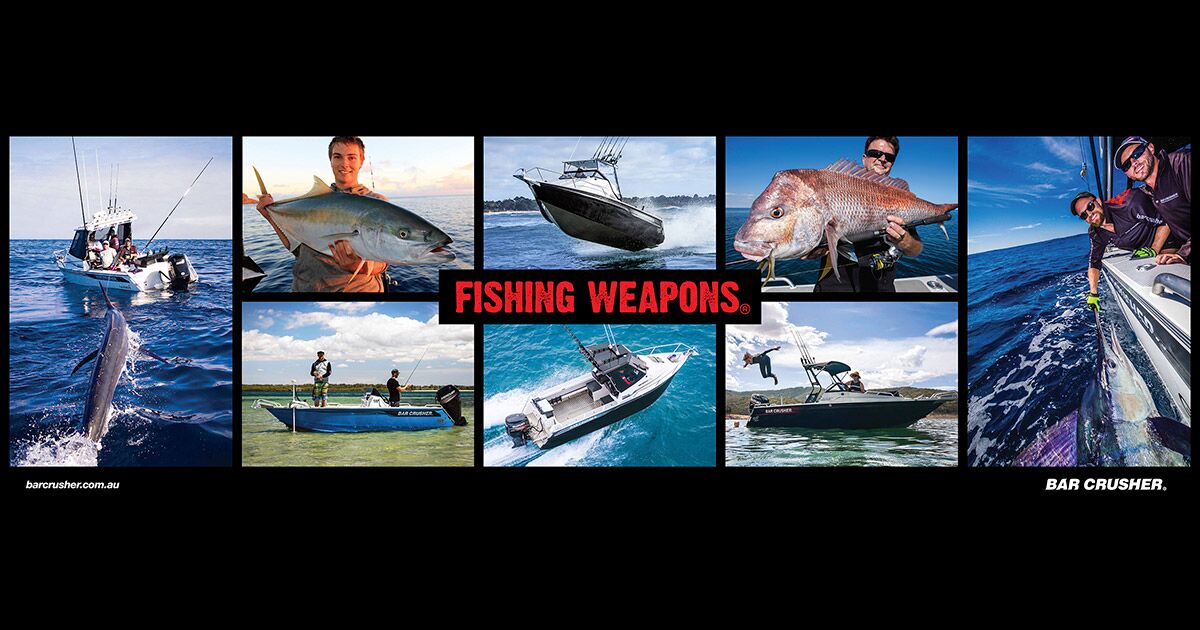 Bar Crusher boats have the highest resale value of any trailer boat brand.
Testament to the exceptional build quality of our boats, there are plenty of early model Bar Crusher boats on the water and they occasionally come up for sale on the used boat market.
The prices used Bar Crusher boats command [regardless of age] are almost incredible, although buyers understand the fact Bar Crusher boats are built to last.
(While owners of other brands of boats cry over the money they lose on their relatively new boats, Bar Crusher owners know their boats are genuine investments!)
There are many thousands of Bar Crusher boats out there, so we've prepared a summary of all Bar Crusher models we've built over the past 20 years and their current model equivalents.
Firstly, click here to understand how boat length is measured among leading boat builders.
Following this list of current and older models are a few more things to keep in mind when looking for a new or used Bar Crusher boat.
Initial builds
5.5 [discontinued]
6.1 [discontinued]
BR Series (Bow Rider)
C Series (Cuddy Cabin)
490C (Gen2) [discontinued]
500CR [superceded] > 535C [superceded] > 535C (Gen2)
530C [superceded] > 575C [superceded] > 575C (Gen2)
560C [superceded] > 610C [superceded] > 615C (Gen2)
560C Apache Limited Edition [50 built]
615C Exocet (Special Edition)
620C [superceded] > 670C
640C [superceded] > 680C [discontinued]
730C [discontinued]
HT Series (Hard Top)
575HT [superceded] > 585HT (Gen2)
610HT [superceded] > 615HT (Gen2)
620HT [superceded] > 670HT
640HT [superceded] > 680HT [discontinued]
670HT Exocet (Special Edition)
760HT [superceded] > 780HT
760HT Short Cab [superceded] > 780HT Short Cab [discontinued]
Hard Top Pilothouse (HTP Series)
Side Console (SC Series)
535SC [superceded] > 535SC (Gen2) [discontinued]
575SC [discontinued]
610SC [superceded] > 615SC (Gen2) [discontinued]
Tiller Steer (TX Series)
XS Series (Centre Console)
XSR Series (Rear Centre Console)
XT Series (Open Hard Top)
WR Series (Walk Around)
490WR (Gen2) [discontinued]
530WR [superceded] > 575WR [discontinued]
535WR [discontinued]
560WR [superceded] > 610WR [superceded] > 615WR (Gen2)
620WR [superceded] > 670WR
640WR [superceded] > 680WR [discontinued]
730WR [one-off]
780WR [one-off]
Prototypes: 615JB (Jet Boat), 640CB (Centre Cab) – both one-off builds that weren't continued.
Driven by innovation, our research and development team is tireless in its efforts to set new standards in plate aluminium boat design and performance.
This has seen countless design improvements and advancements in construction techniques over the past couple of decades; some of them subtle, and some of them glaringly obvious – like our innovative Gen2® hull design.
Extensive testing has proved our 535, 575, 585 and 615 hulls received significant performance benefit from our next-generation design, while our larger 670, 730 and 780 hulls continue to be built on our high-performance Waveslicer® deep-V hull.
Regardless of size, all Bar Crusher boats are built using our Rigideck® engineered sub-floor system for maximum hull strength, and incorporate our Quickflow® water ballast technology for superior stability at rest.
As a premium Australian boat builder, we're always designing, testing and introducing new features to our model range.
Accordingly, specs of an earlier model Bar Crusher boat have most likely changed over time, even if the model name remains the same.
(The specs provided via Facebook from someone who owns a 2010 model [or opinions from people who've never even been in a Bar Crusher!] may not be the same specs as the current model you're asking about.)
It's important to check our website for up-to-date specs on each Bar Crusher boat model. If you're unsure about anything, it's always best to contact us or speak with a Bar Crusher dealer.
Always remember: weights and measurements are approximate due to variations in packaging and fit-out. All weights and measurements must be confirmed with your dealer prior to ordering.
Check out these boat buying tips to increase your boating knowledge – and use our online boat builder to personalise your Fishing Weapon!