Bar Crusher 670HT – boatadvice.com.au
REVIEW: Bar Crusher 670HT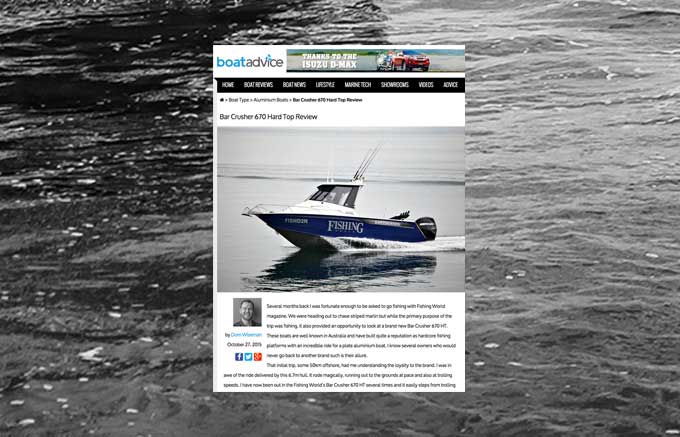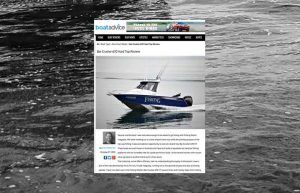 Several months back, Dom Wiseman was fortunate enough to be asked to go fishing with Fishing World magazine. They were heading out to chase striped marlin and while the primary purpose of the trip was fishing, it also provided an opportunity to review at a brand new Bar Crusher 670HT…
These plate aluminium boats are well known in Australia and have built quite a reputation as hardcore fishing platforms with an incredible ride. I know several owners who would never go back to another brand such is the allure of these boats.
That initial trip, some 50km offshore, had me understanding the loyalty to the brand. I was in awe of the ride delivered by this 6.7m hull. It rode magically, running out to the grounds at pace and also at trolling speeds. I have since been out in Fishing World's Bar Crusher 670HT several times and it easily steps from trolling mode, to chasing snapper at anchor with baits, or drifting and casting at plastics.
Stepping back aboard a Bar Crusher again recently reinforced my initial thoughts. While the second 670HT I was on had a slightly different set up, the ride remained true and exemplary.
WHAT YOU GET
Bar Crusher boats have a distinctive and purposeful design. The sharp angles used throughout the construction have a dual purpose – eliminating the need for curved sheets of aluminium and reducing the amount of flat surfaces for water to bang on. There is no doubt they are distinctive and, thanks to the great attention to detail by the manufacturer, built like the proverbial outback dunny. That is tough!
The Bar Crusher 670HT is designed for serious fishing and, as such, has a cavernous interior cockpit. The floor is checkerplate and while it could get hot in warmer conditions is comfortable underfoot and has no impediments to moving about this area. It also makes cleaning a serious fishing mess a breeze. The freeboard is also impressive at 800mm.
The second 670HT I was on, owned by Bar Crusher's marketing man Ben Sandman, also has the checkerplate deck but he's covered it with a rubber tube matting that's breathable and keeps your feet high and dry. It's an option offered by Bar Crusher, called Fish Mat.
Built into the deck at the rear is a large kill tank, big enough for game fish such as tuna, while either side of this expansive fishing space are long side storage pockets that are wide and easy to access. Attached to the pockets on each side are removable, vertical rod storage holders, each capable of holding four rods. On the starboard side, a deck wash sits in the pocket comfortably while the rear transom panel, with a non-slip grip on it, folds down to create a bench seat for passengers. This is reasonably comfortable to sit on while underway, especially with the padded coaming that runs along the back. Dual batteries and switches sit behind this panel and are easily accessible.
The wide side decks feature three fixed-position cast aluminium rod holders that are perfectly positioned for trolling a spread of rods. Outriggers have also been fitted to both boats to create a large and effective spread of lures while trolling.
At the stern there is a lift-out access way / walk-through on the starboard side and a generous live bait tank on the portside. In between there is a large aluminium cutting board and bait prep station that features four rod holders and cleverly drains into the berley bucket located on the stern platform.
Back inside and moving forward, the padded bucket seats for the driver and passenger sit atop large aluminium boxes with tackle storage and general storage below. The seats swivel 360 degrees and are extremely comfortable making the driving experience very pleasurable, particularly when you're stuck behind the wheel for hours on end chasing billfish. They are emblazoned with Bar Crusher insignia adding a classy look to an otherwise innocuous piece of equipment. Footrests are also standard. Standing to driving is also possible and provides those a little vertically challenged with a better view out the window.
The cabin is all aluminium and tinted safety glass and is high enough to stand, even for a taller person. A full view of the surrounds can be enjoyed from here. The middle section of the windscreen opens out to create airflow on hot days, and is also really useful when launching/retrieving in the dark, or on cold mornings when the windscreen fogs up.
The cabin features three-quarter length bunks (with storage underneath) and more storage pockets that run the full length of the cabin. A bunk infill is available. It provides a secure space to store gear away from the elements, or a place to lay down or for the kids to play during family days on the water. The solid hard top has a 10-rod rocket launcher for even more rod storage, and there are also hand holds on the roof to aid navigation around the outside of the boat using the gunwale.
The dashboard is all class and designed so the entire port side is left open and provides access to the cabin. The dashboard itself is all black and has plenty of space for all the marine electronics units you could need. The Fishing World boat had a single Raymarine plotter/fish finder combo unit front and centre, sports steering wheel and throttle plus trim tab control within easy reach and a healthy switch panel down the left, while the other boat had a full-suite of Garmin marine electronics, including two sonar/chartplotter units and an autopilot. Both boats were also fitted with StressFree Marine anchor winches. Should you be more of the manual inclination, access to the bow and anchor well is easy through the cabin hatch.
POWER
Fishing World opted for the Mercury Verado and went with a 175hp model which is built on a 1.7-litre inline four-cylinder platform which is perfect for this hull. The hull is designed to handle up to 200hp but for me, the 175hp is perfectly suitable. It's not often that you're belting out offshore at full noise and as far as cruising and trolling goes, the 175hp is likely to be more economical. As it stands, fully laden, the hole shot is still good and the boat climbs onto the plane effortlessly. The engine has power in reserve and delivers that power when needed while coming in at 231kgs.
ON THE WATER
For the Bar Crusher 670HT, they've used heavy duty, pre-stressed 5mm bottom and 4mm topsides. The material is all marine grade plate aluminium and delivers a supremely tough and strong deep vee hull. Bar Crusher calls it its Waveslicer design and after sampling how well slices through the chop you can see why. It also handles a following sea with aplomb. They claim to have the smoothest riding hull on the market and if I was to compare it to other plate aluminium production boats, it'd have to rate in the top two.
Bar Crusher also uses the trademarked Quickflow ballast system that allows a cavity in the deep vee hull to fill with water at rest, sinking it deeper into the water and making it more stable at rest. The water drains out in seconds as the boat takes off. You can opt to be able to close the cavity at one end of the cavity using the Bar Flap, trapping the water in it before taking off, so while under way the added weight and makes an already great hull, even better in choppy conditions.
The plate aluminium hull rides brilliantly, while offering other advantages in regard to tow weight and durability compared to fibreglass boats. All boats can be pushed around by big waves and strong currents and at times I felt this push more than I would in a fibreglass boat. That's not to say it doesn't feel secure and confident, it's just a noticeably different feeling.
ON THE TRAILER
The Bar Crusher 670HT is a big boat and, as such, it is going to need a decent boat trailer. The test boat came sitting on an Easytow dual axle trailer. An Australian company based in Victoria, Easytow started by building trailers for ski boats but they now make a range of trailers for sport fishing boats and produce a great product.
We only had to tow the Bar Crusher about 20km but the tandem trailer hummed along on the 100km/h zone, almost to the point that you wouldn't know it was there. The boat slipped off with a minimum of effort too. All Bar Crusher boat trailers are designed for single-handed launch and retrieve, and the Bar Catch system makes it easy. The entire package including boat, motor and trailer would lie in the 2000kg range putting you in the larger car market for a tow vehicle.
OVERVIEW
The Bar Crusher 670HT is another superbly built boat from this outstanding Australian boat builder. The countless hours of R&D are evident throughout and it's unashamedly a hardcore fishing boat, than can double as a low-maintenance family boat. From the expansive space, superb construction and long range capabilities and hand holds everywhere, it's all class. The hull is a beauty and more than capable of extreme offshore adventures.