BOAT BUYING TIPS (8) – Function and comfort
We've all heard of ergonomics in a work environment – "the applied science of equipment design is intended to maximise productivity by reducing operator fatigue and discomfort" – and it's equally important in a boat.
Spending a day in a boat is great fun, but sometimes people can come home with a few aches as a result of a boat's on-water performance, fishing posture, seating position, or even just from getting on and off the boat.
Ergonomics plays a big role in serious fishing boat design…
STAND UP
As part of your pre-purchase research, while you're standing in the boat, walk over to the side and check if the coaming hits you in the thigh just at the right height – above your knee, but not too high. Your toes should locate under the side deck and coaming (creating a secure 'toe hold') so you can stand with your back straight.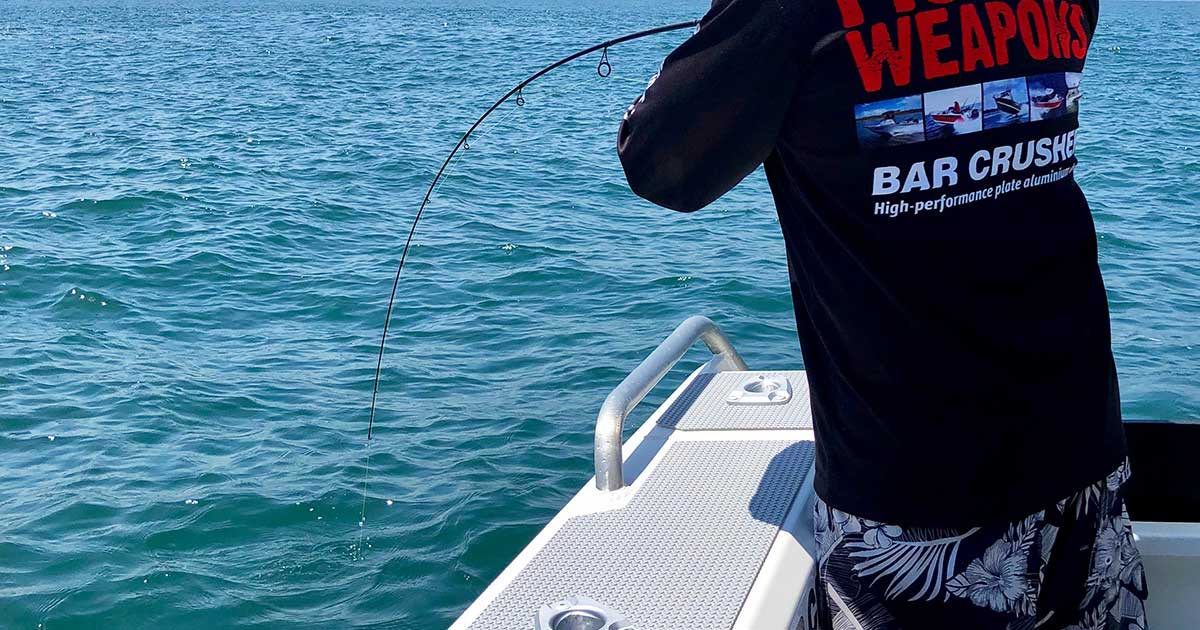 This is the ideal fishing position. No stress on your lower back, but you're nicely wedged against the side of the boat – safe and secure.
TIP: Do the 'stand against the coaming' test in any boat you're considering buying. Is it comfortable? Do you feel secure? Is your back straight? Can you comfortably lean over to tag, net or gaff a fish?
Stand at the baitboard to confirm it's the ideal height for bait preparation and lure rigging, as you don't want to be hunching over it. Ensure rod holders around the boat are positioned to allow quick and comfortable access. (Also check the quality of the rod holders.)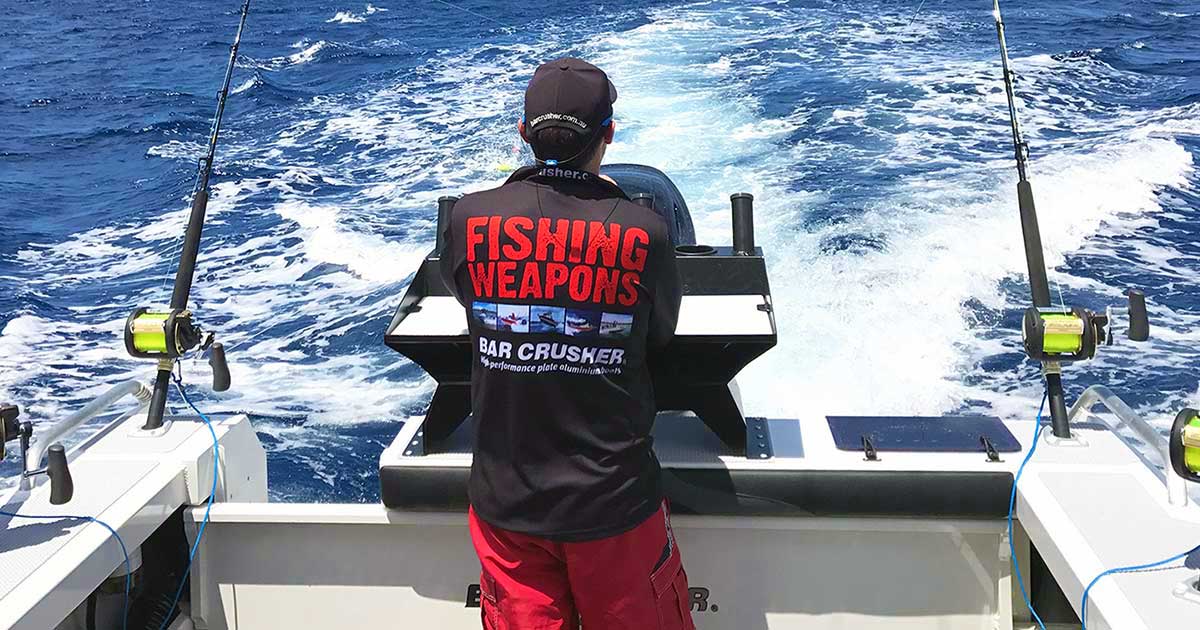 Are there any obstructions around the cockpit you could potentially trip over while moving around the boat? When the fishing action is hot or you're fishing in rough conditions, you need to be able to move around safely.
To get a feel for the ideal ergonomics in a well-designed fishing boat, stand in the cockpit of a Bar Crusher boat and you'll immediately understand.
HELM POSITION
A well-designed helm position is paramount, especially if you're planning to spend a lot of time offshore.
Ensure the driving position has adequate head height, provides good all-round vision (to keep an eye on the water and the crew), has plenty of dash space for marine electronics, and check the steering wheel and controls all fall comfortably to hand.
Again, smart design means comfortable days on the water.
SIT DOWN
Very few serious anglers sit down during long runs offshore in a trailer boat, so ensure the helm seat has a bolster arrangement to comfortably secure yourself against while driving. When you do want to sit, you can simply flip the bolster down.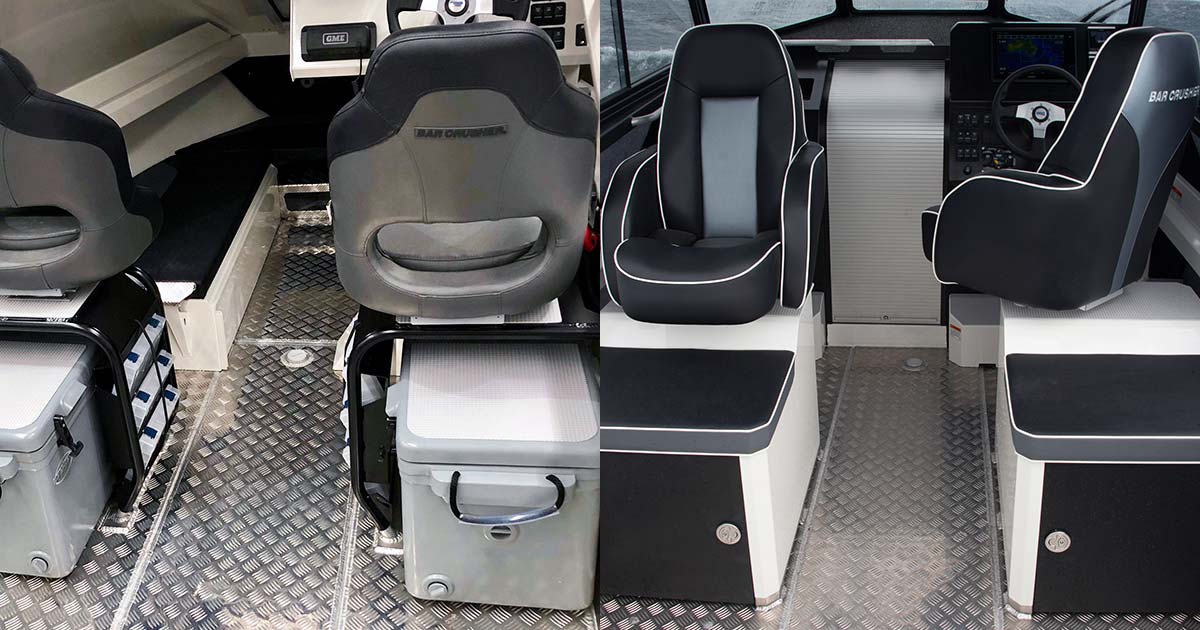 Quality seating, functional foot rests, and seat box storage (you can never have enough storage in a boat!) are all important to look for during your pre-purchase research. Many boat manufacturers skimp on these things… and many unsuspecting new boat owners don't realise this until it's too late. Seating positions should also provide good visibility of the water.
TIP: Every serious fishing boat should have clean, wide side decks…
People need to be able to sit around the side decks while fishing too. This is not only practical and comfortable (whether you're fishing at anchor for snapper or trolling lures for marlin), it increases the useable cockpit space as the crew can spread out around the boat, rather than all huddling in the centre under each other's feet.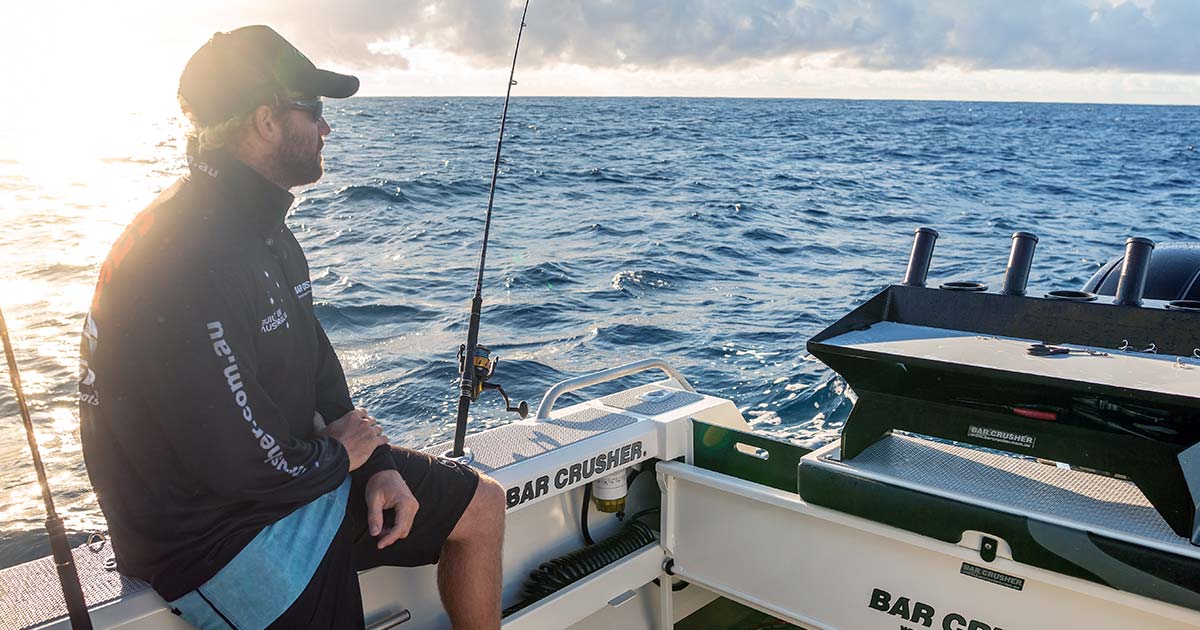 As part of your research, get in a boat with narrow side decks and try to sit around the sides. Then get in a Bar Crusher and do the same.
The rear bench seat in most Bar Crusher models also provides additional seating and folds away neatly when fishing, so the back coaming and cockpit fishing area is unobstructed.
EASY ACCESS
Easy access to and from a boat is important. The transom step-through in our boats is at the perfect height to allow this, whether at the boat ramp, on the water, or at home. When folded down, the rear bench seat also creates a solid step.
(The removable door in the transom step-through doesn't encroach on any space in the cockpit if you want to drag a big fish onboard either.)
If you're looking at a boat with a cabin, consider the size of the cabin hatch. You might be surprised how often you'll use it.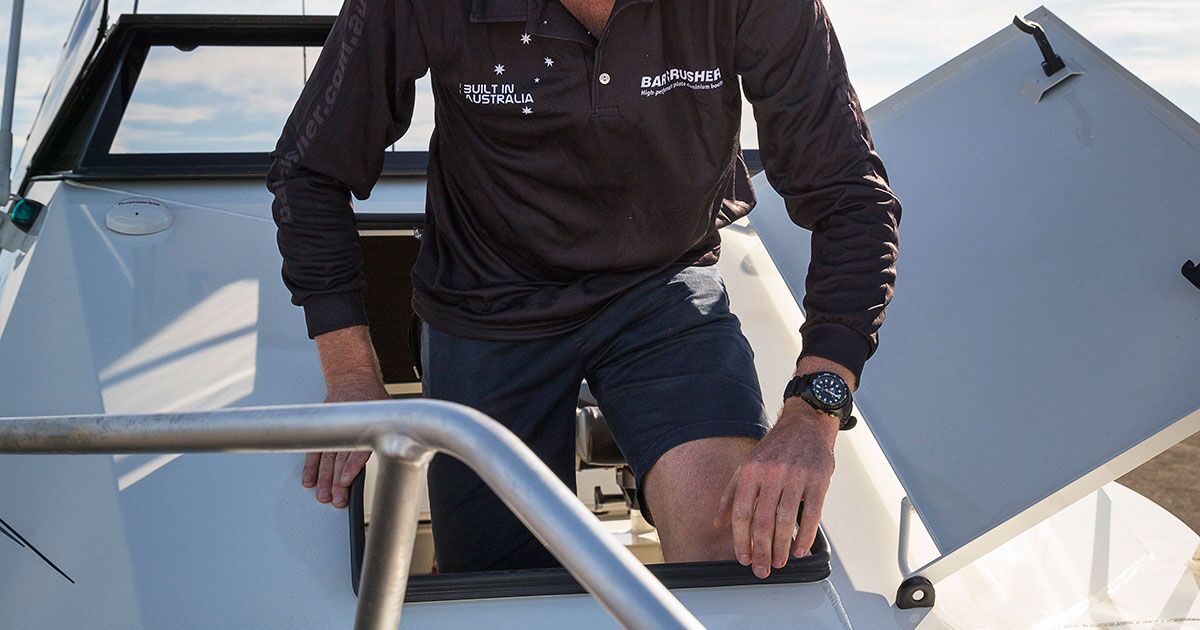 The large hatch in our cuddy cabin and hard top models allows easy access up forward without getting your shoulders stuck.
Consider where the handrails are located around any boat you're looking at too. Whether getting on or off the boat – and while you're underway – the number, position and strength of grab rails is very important.
Grab rails must be thoughtfully placed to give people a comfortable and secure grip when they need it most.
Download FREE Boat Buyer's Guide