Bar Crusher scoops Tasmanian fishing pool
21 April 2009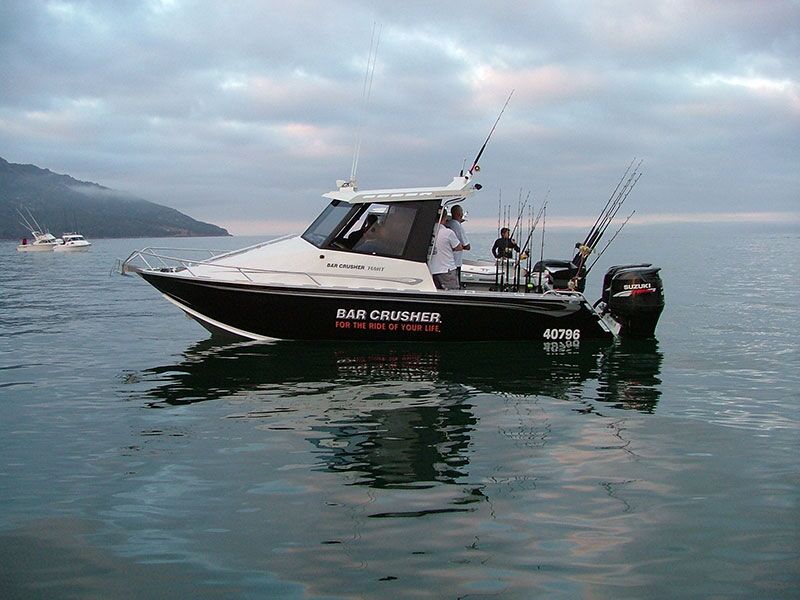 Anglers fishing in Bar Crusher's new, super heavy-duty 760HT have taken home top honours in two of Tasmania's foremost gamefishing tournaments.
The team scored back-to-back wins (tag and release) in the St Helens Game Fishing Classic and the Coles Bay Classic – a feat never before achieved since the events' inception. A 23.8kg Southern Bluefin Tuna also secured heaviest gamefish at Coles Bay.
Tasmanian Bar Crusher dealer Coastal Marine's Anthony Wolfe said the 760HT was the envy of all competitors and the only boat to catch a Southern Bluefin Tuna during the tournaments.
"It was a very good result, a combination of good crew and an amazing boat," Mr Wolfe said.
"There were 63 boats in the St Helens comp and about 35 in the Coles Bay, in very rough conditions, and the Bar Crusher 760HT pipped them all!"
Despite the rough seas at both events, Mr Wolfe said they were still able to troll side-on to the sea due to the solid construction and awesome performance of the big Bar Crusher.
"I've also had the 760HT in 3m seas and 30kt winds… it is simply rock solid and inspires a lot of confidence in those conditions," he said.
"Onboard, the layout in the cockpit and the cabin is spot on… it's the finest offshore boat I have ever been in."
Coastal Marine has achieved good sales since the Bar Crusher 760HT was launched in February. The dealership also hosted an in-house boat show in early April, which Mr Wolfe said was very successful.
"We had six sales over that weekend… the shop was busy and people told us they intended to buy," Mr Wolfe said.
"Customers are champing at the bit to get into the new Bar Crusher 760HT… it's created a real storm!"
(This current version of this model is known as the 780HT, since achieving CE Certification several years ago.)
Further information: Bar Crusher Boats – (03) 9792 2999 or visit: www.barcrusher.com.au