Bar Crusher – 20 years of innovation
8 August 2020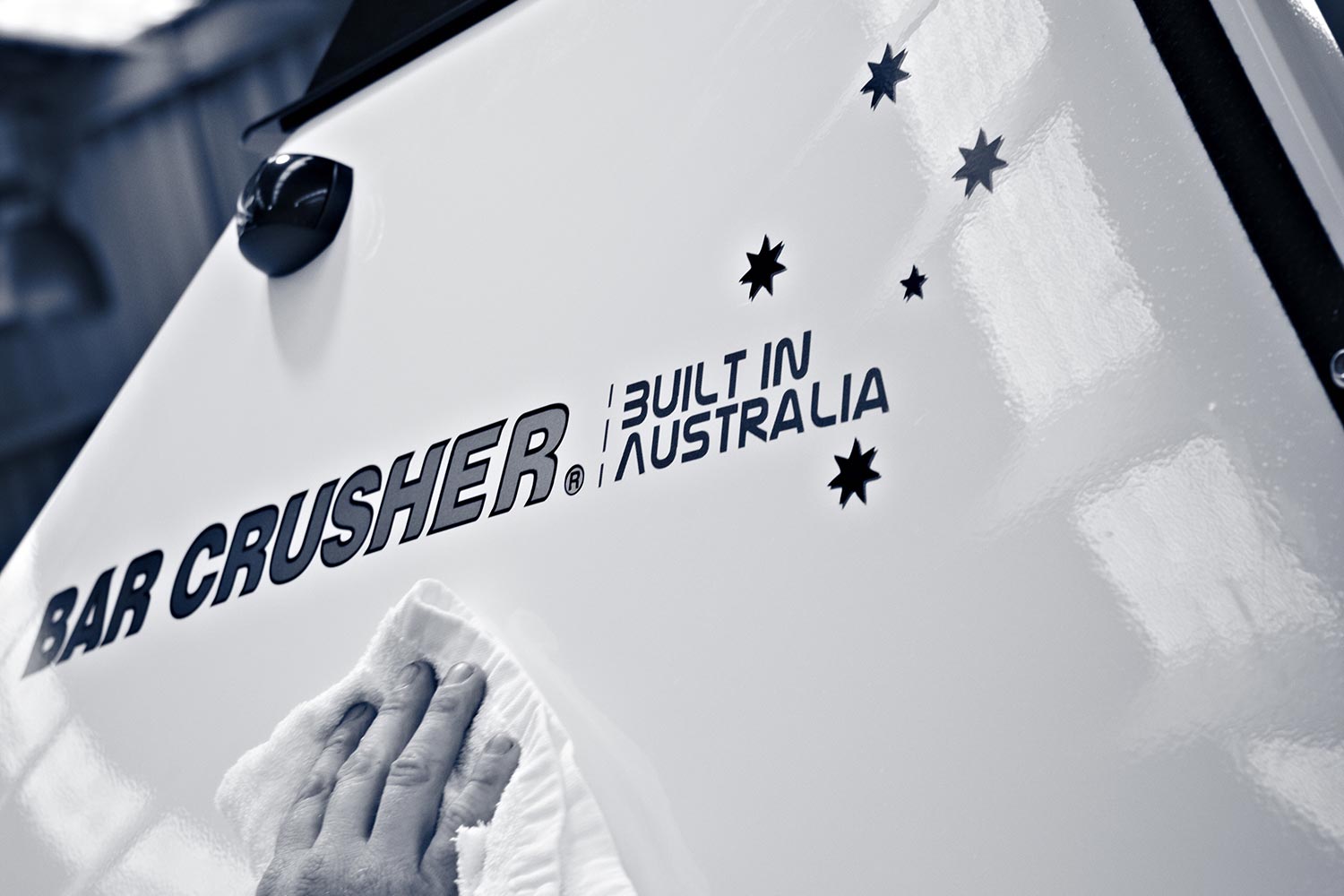 Australian owned and built.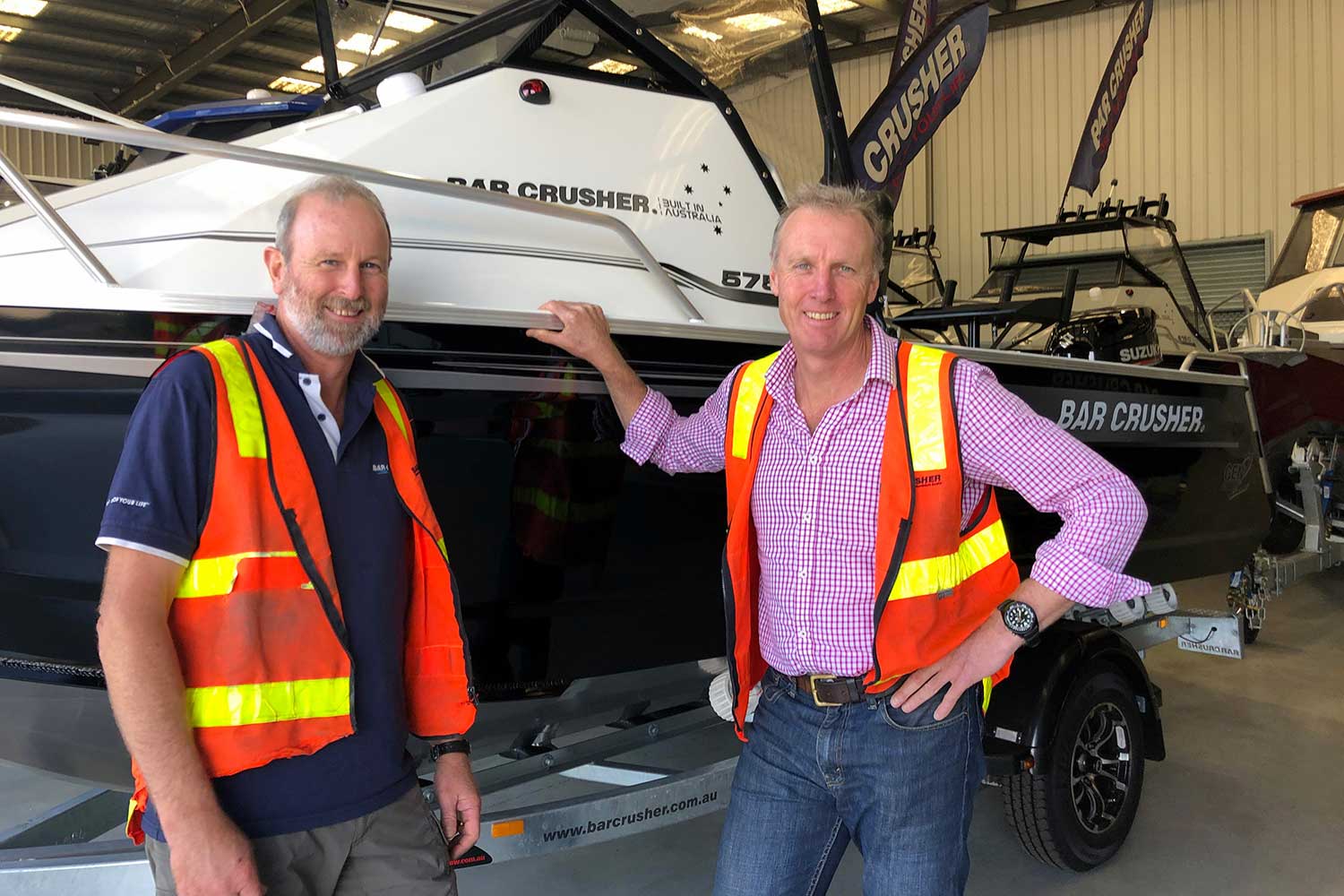 Brothers Warren (left) and Peter Cleland started Bar Crusher Boats in 2000.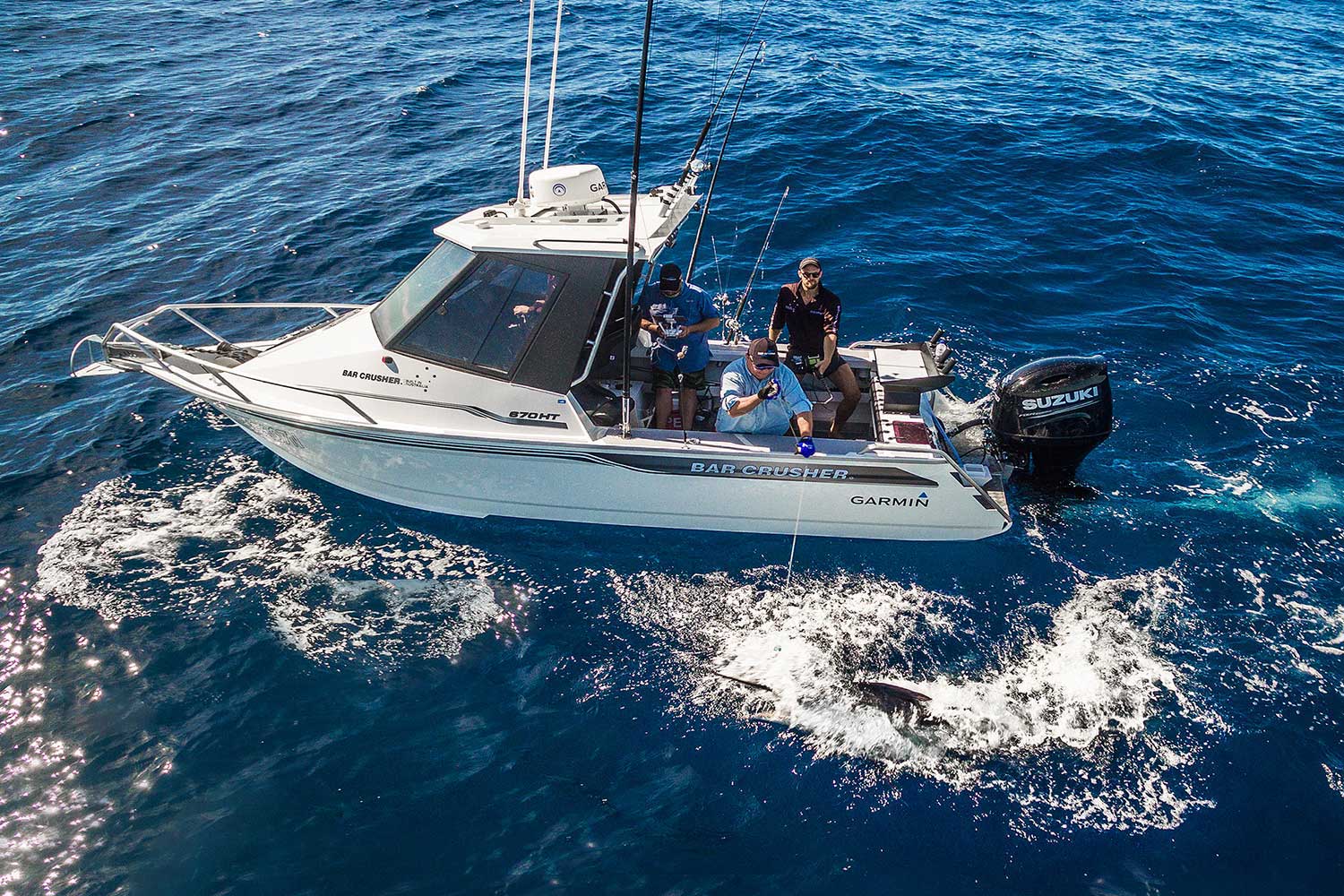 We're one of the few boat builders with passionate and experienced anglers within our ranks.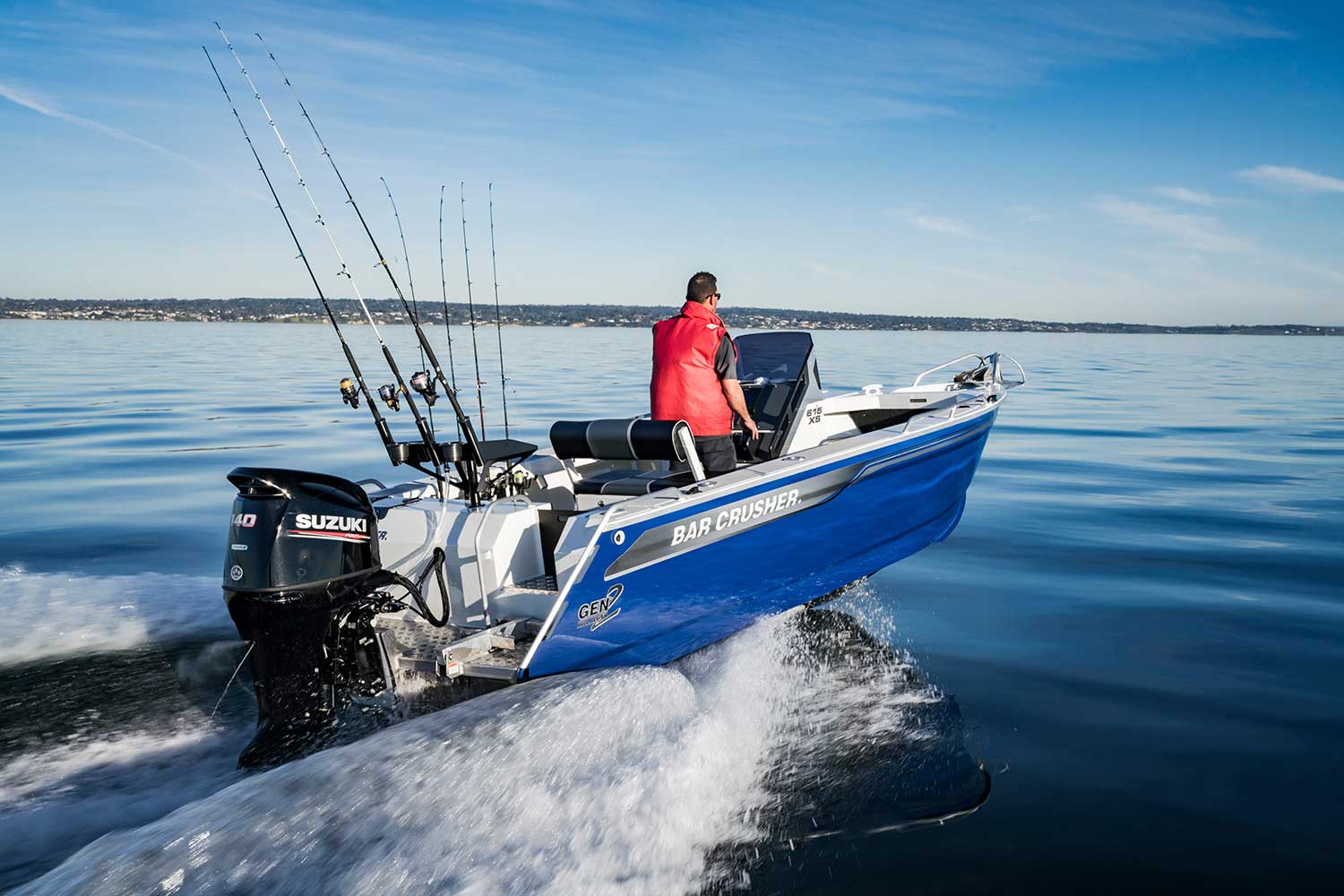 Our current range comprises nearly 30 models, from centre consoles to hard tops.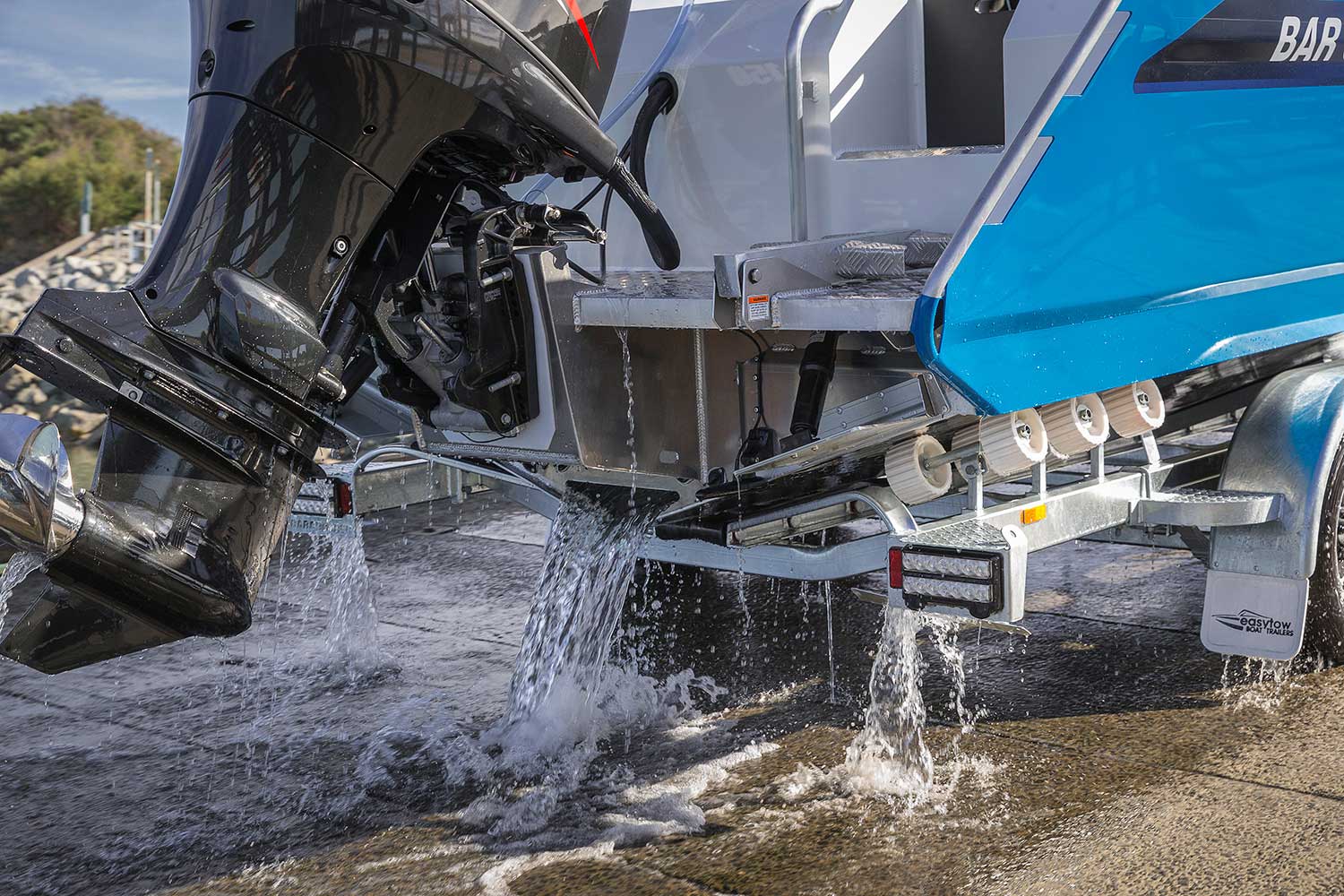 Quickflow water ballast delivers superior stability at rest and empties quickly upon acceleration.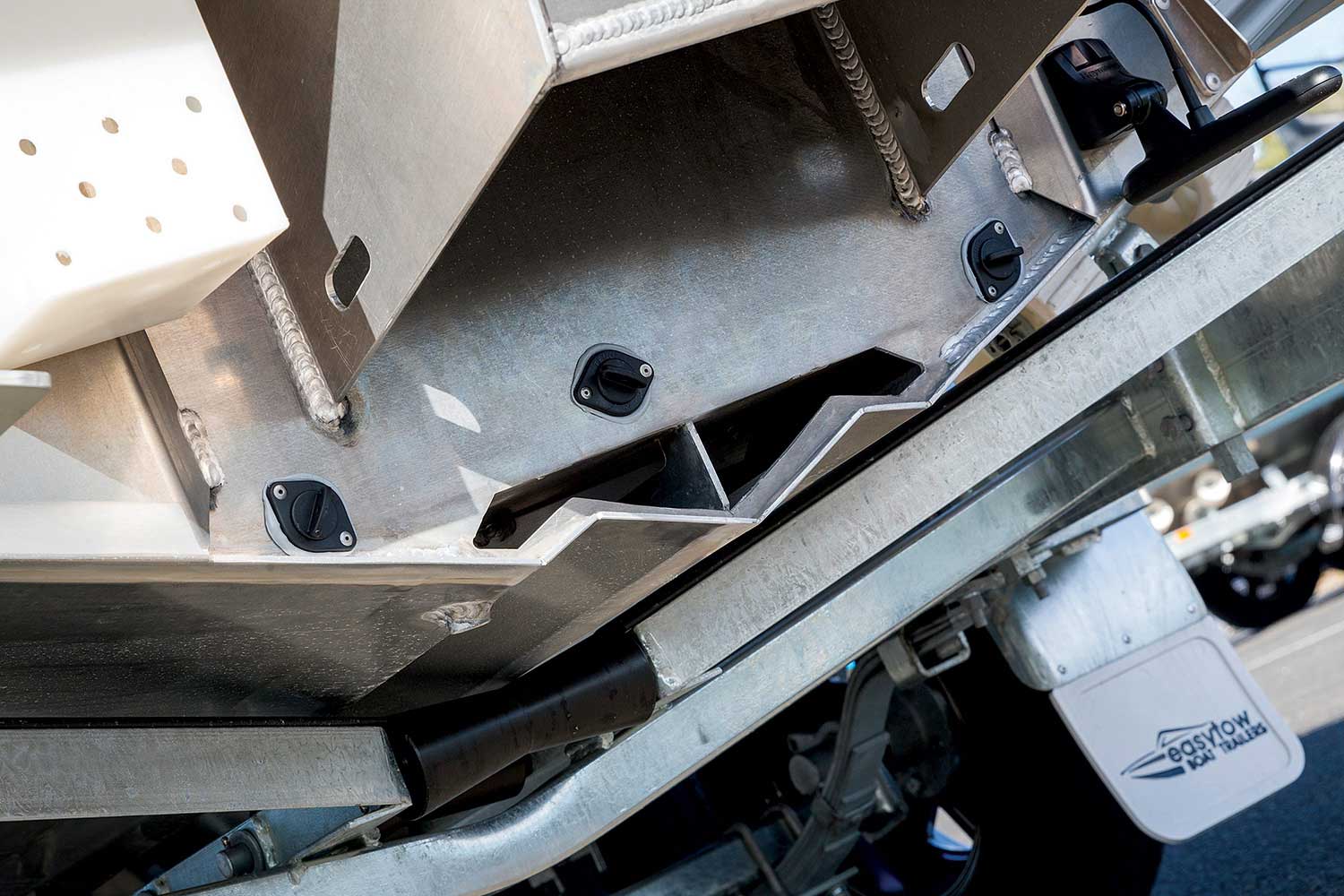 The innovative Gen2 hull design features in our 490, 535, 575, 585 and 615 hull series.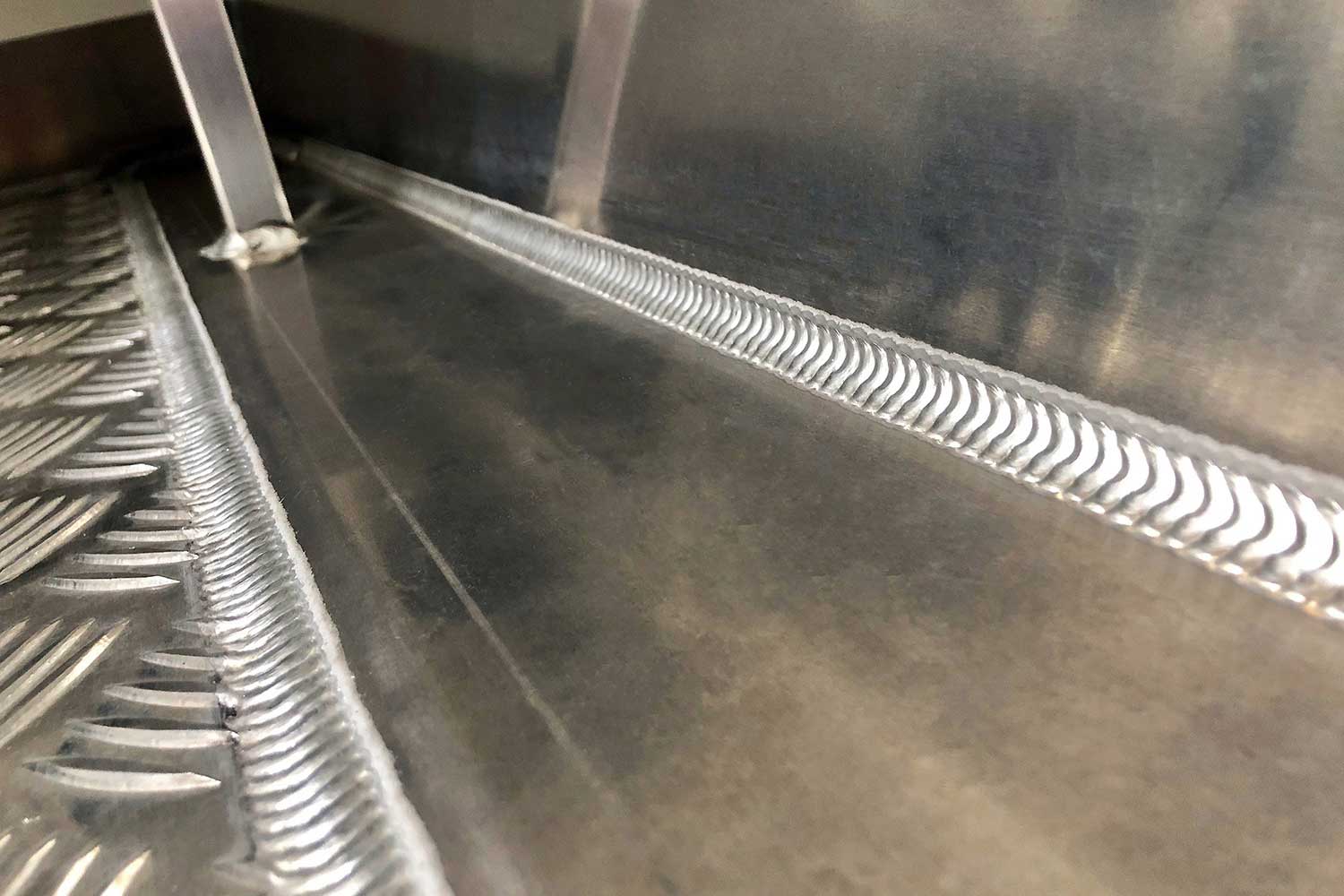 High-quality welding is inherent to every Bar Crusher boat.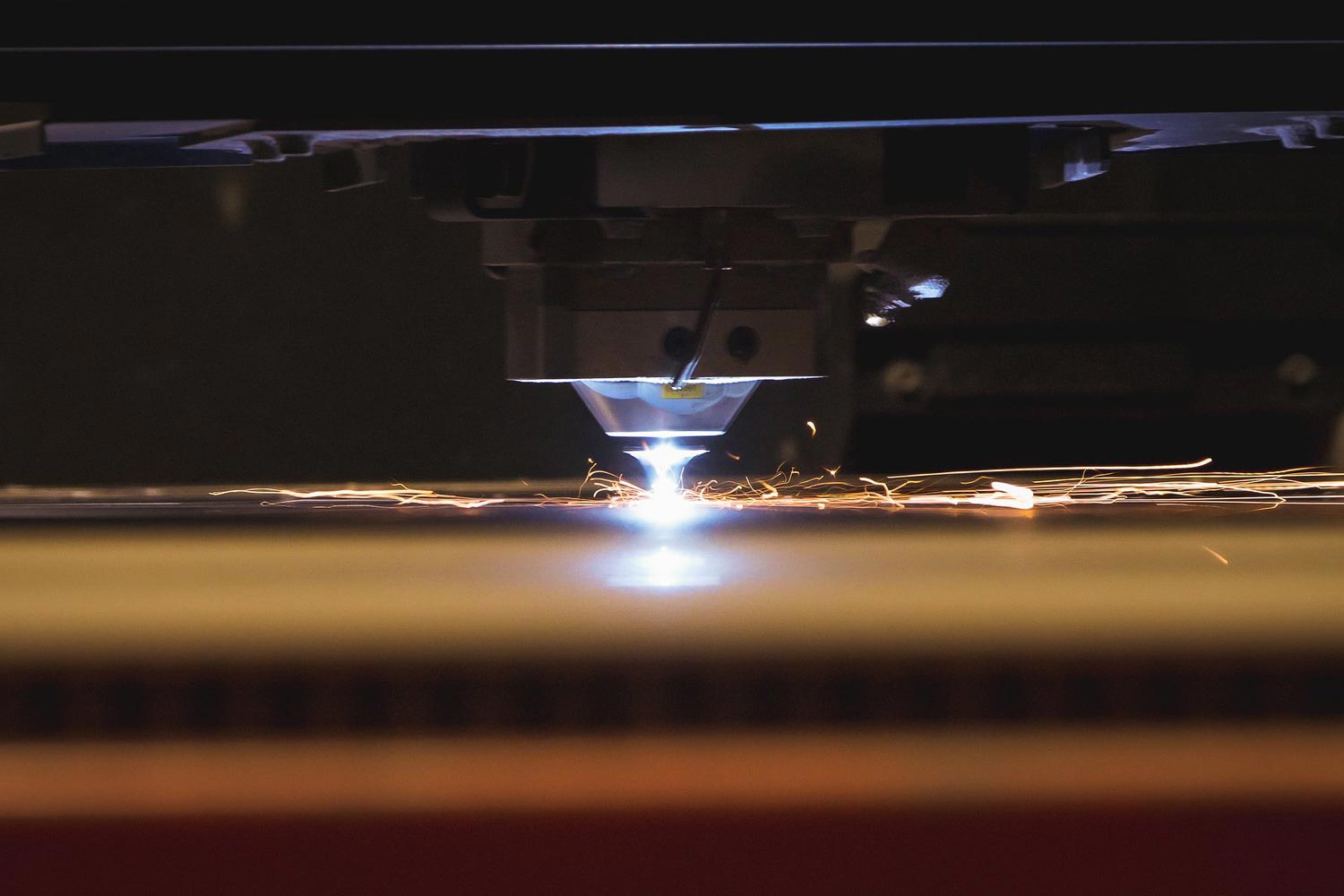 Precision laser-cutting robotics is part of our world-class Australian manufacturing facility.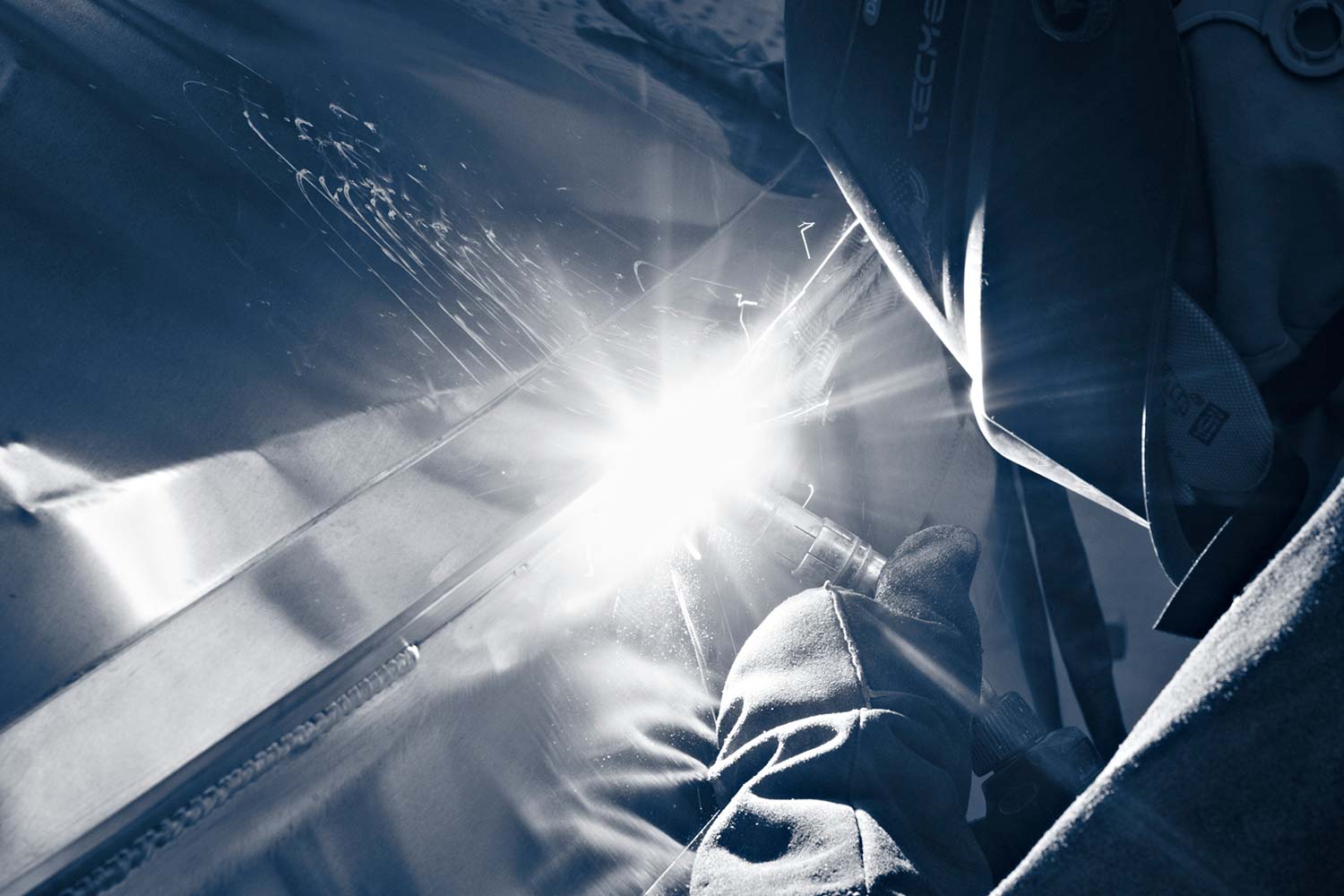 Our highly-skilled welders are known as the best in the industry.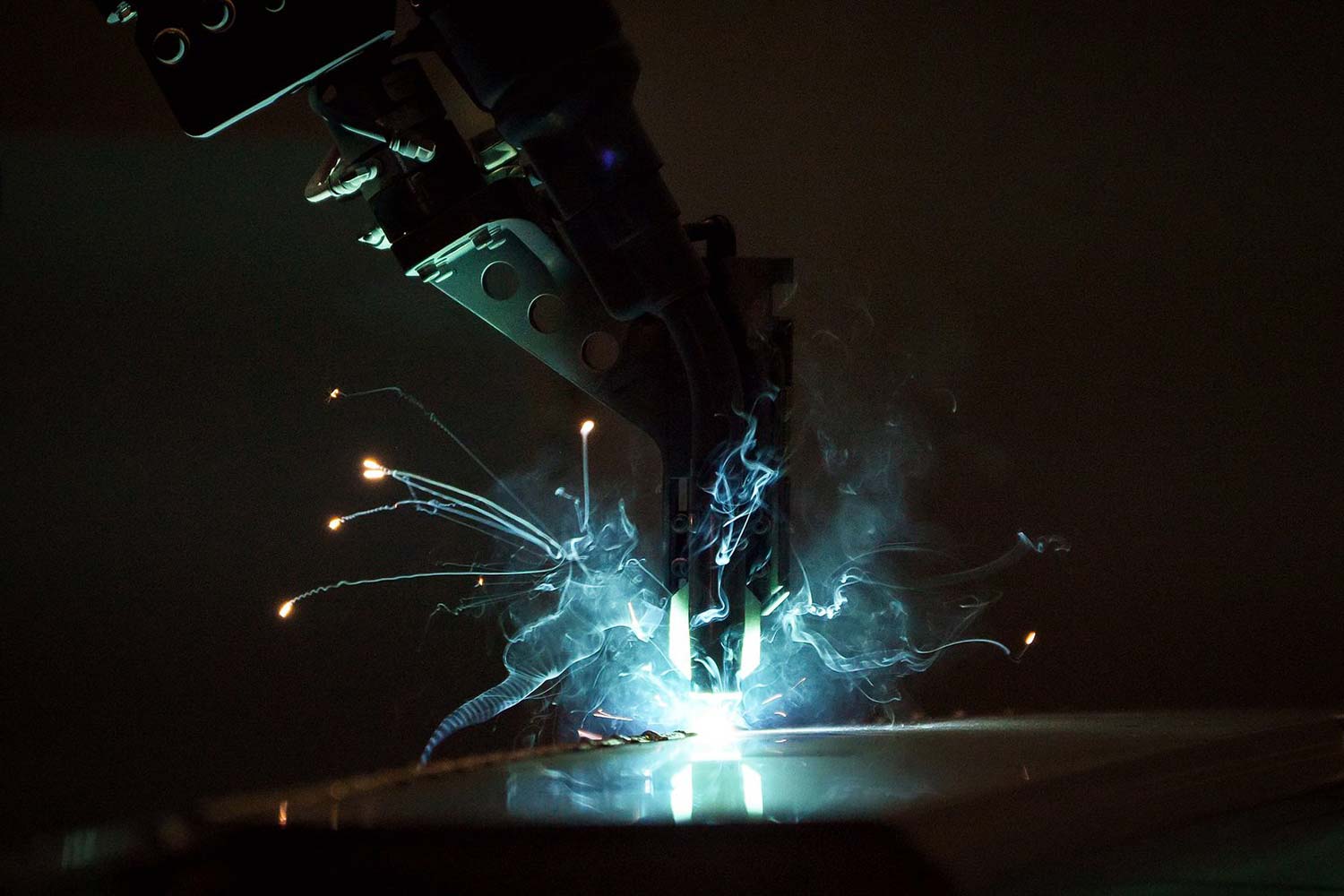 We use the most advanced welding equipment in the world.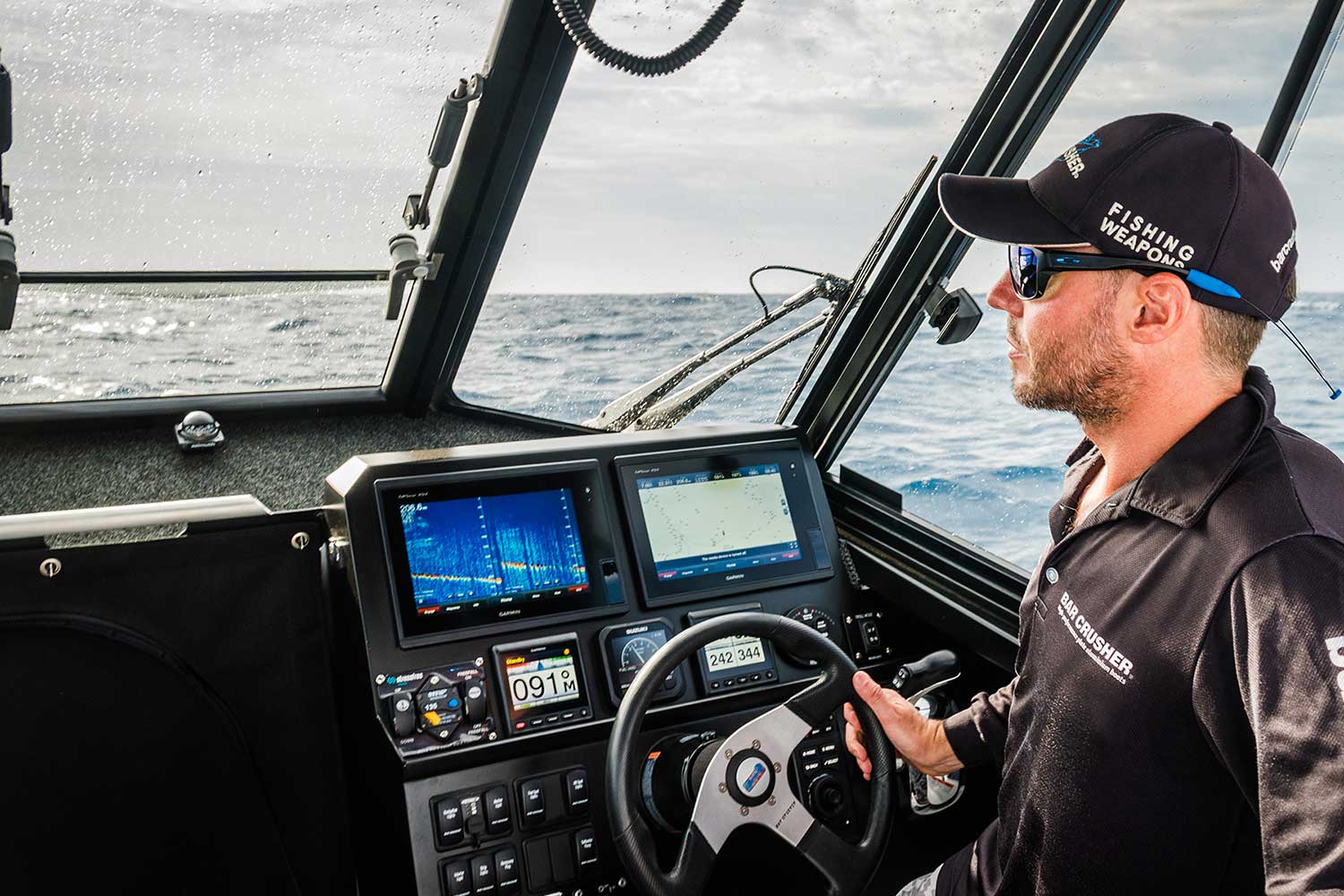 Built to perform, everything in a Bar Crusher is 100% quality.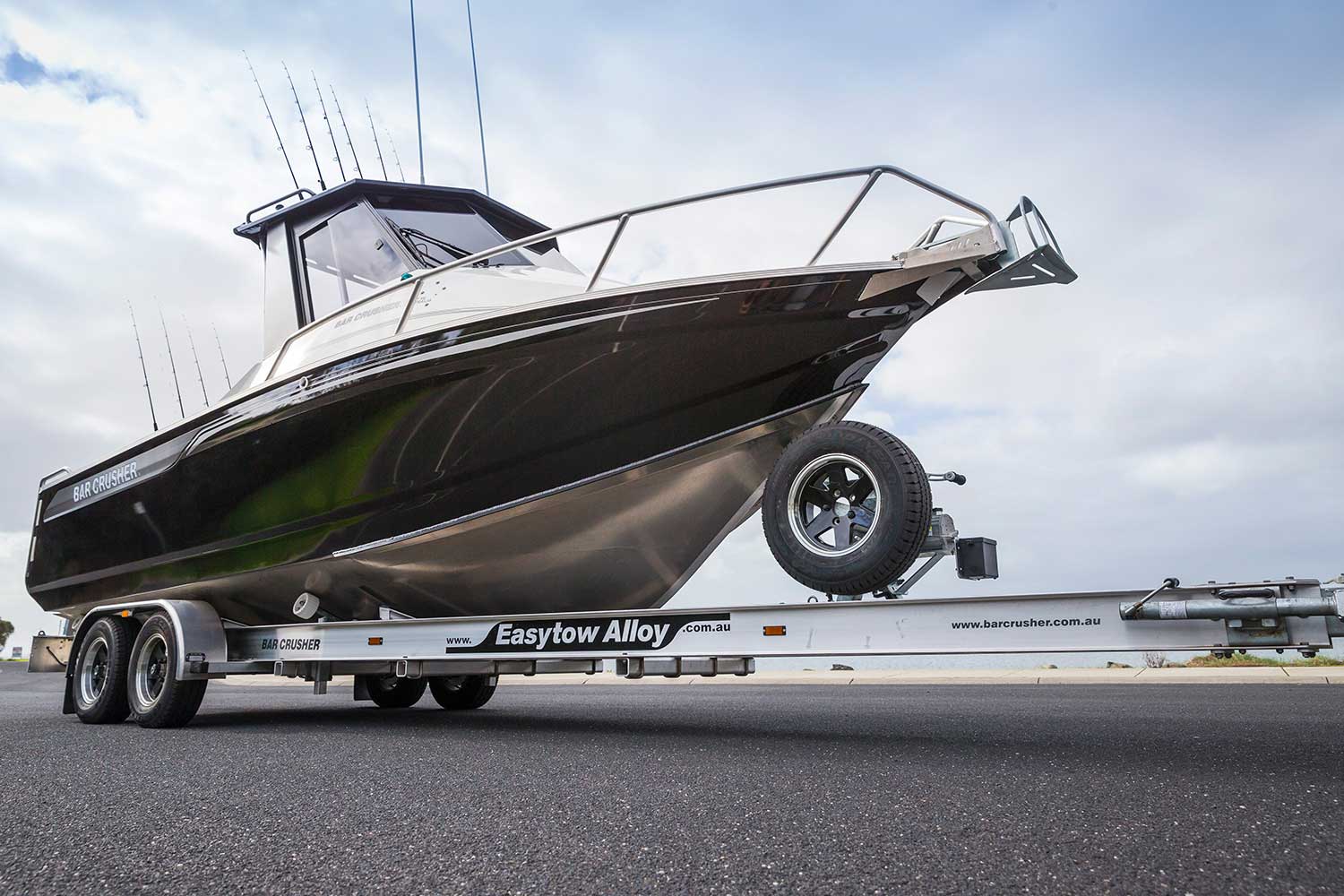 Every trailer is perfectly matched to the hull.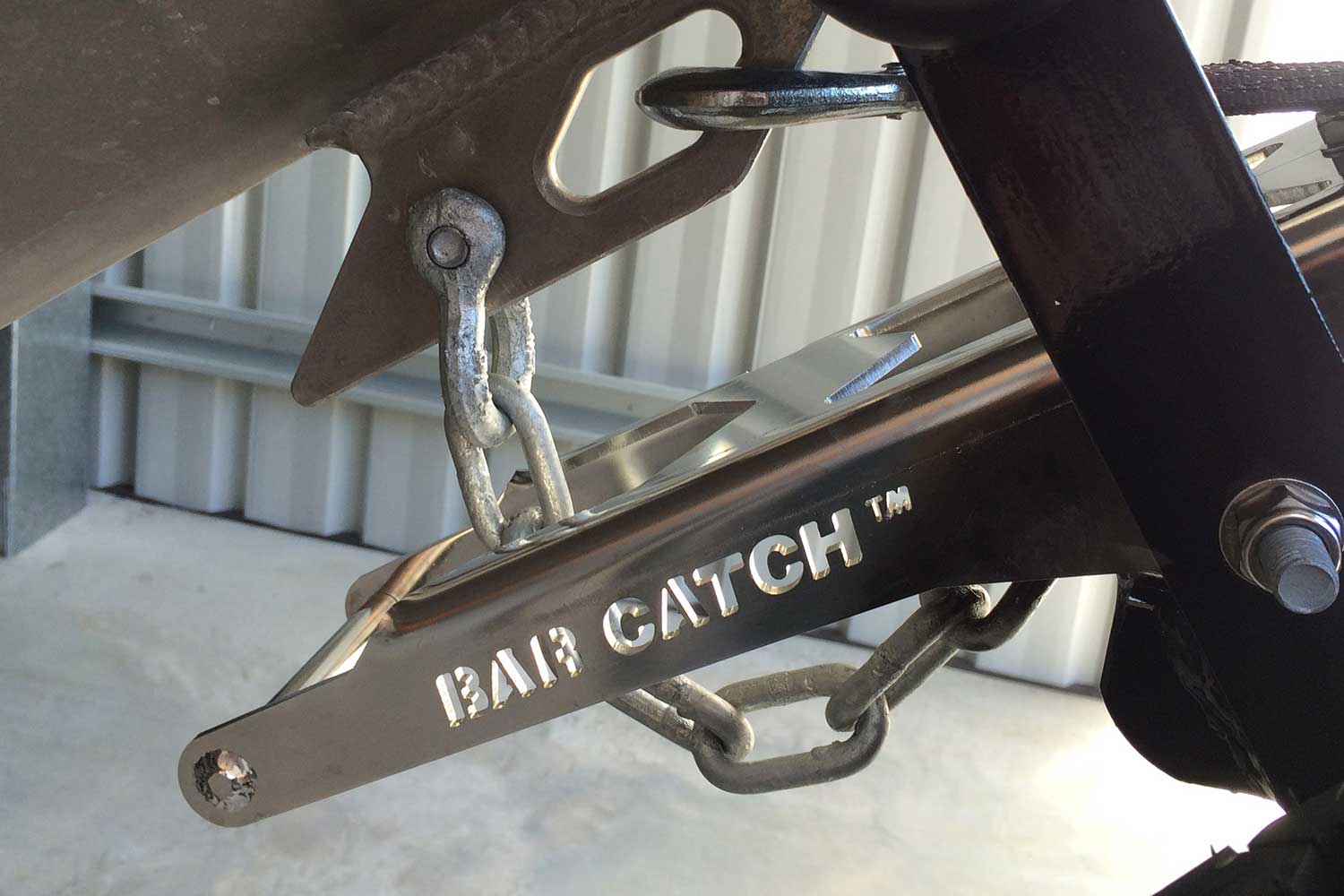 Bar Catch – for single-handed launch and retrieve.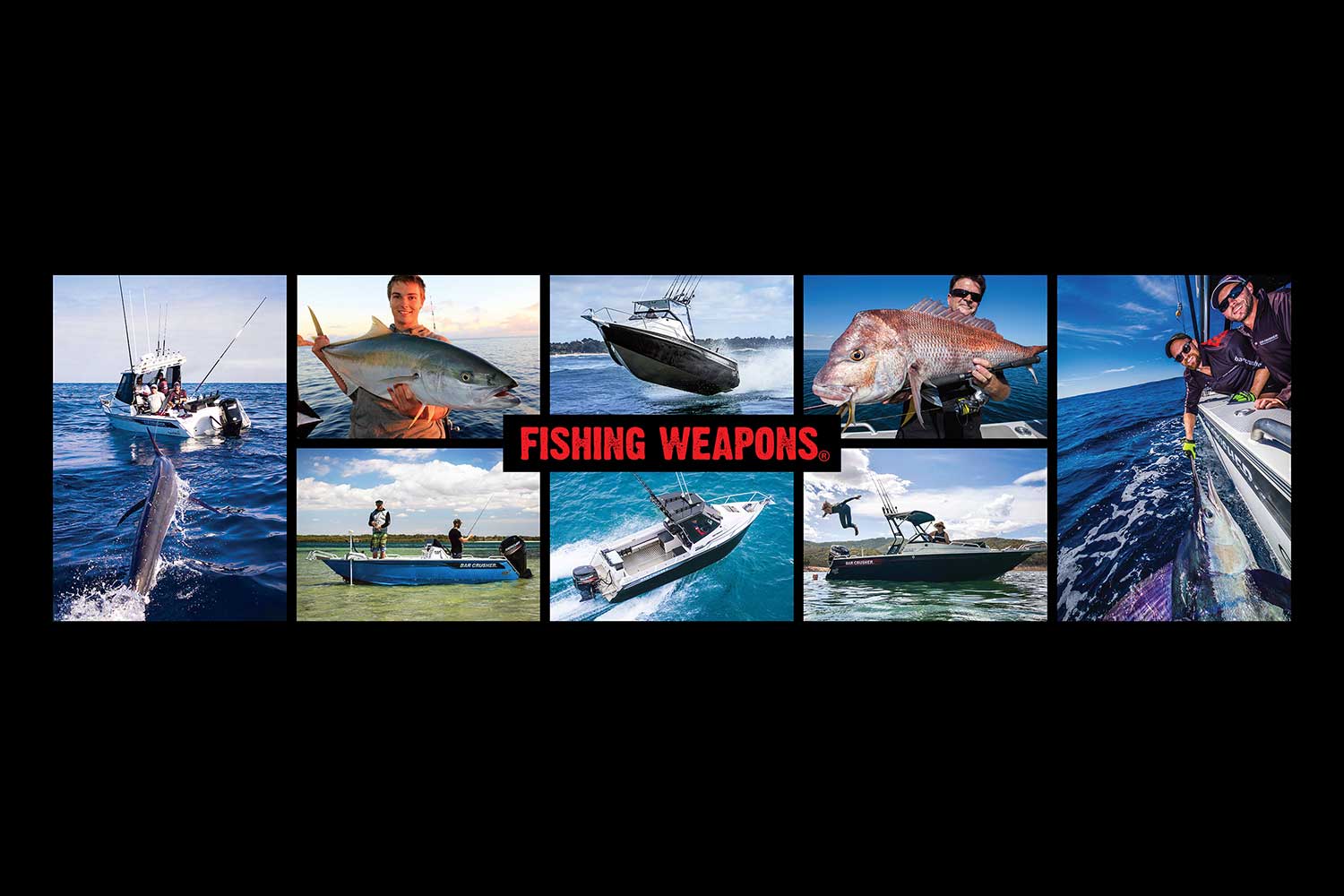 We can talk the talk, because we walk the walk!
Focus, dedication and hard work… time flies when you're building Fishing Weapons!
When Bar Crusher launched back in 2000, factory-built plate aluminium boats were pretty rare in Australia. The situation's changed dramatically, with plate boats soaring in popularity as they're relatively light to tow, economical to power, easy to maintain and incredibly durable.
In the 20 years since the original two-model Bar Crusher line-up appeared at boat shows around Australia, our range has expanded to nearly 30 models in a number of configurations – cuddy cabin (C series), hard top (HT series), hard top pilothouse (HTP series), centre console (XS series), open hard top (XT series), walk around (WR series), and bow rider (BR series). Designed and built for Australian conditions, our CE-certified boats have proved popular right around the world.
FISHING WEAPONS
Bar Crusher is a premium Australian boat builder delivering high-performance fishing boats for hardcore Australian anglers. Our range spans 5.35m to 7.80m with models suitable for everything from casting lures for bass in freshwater right through to battling big marlin beyond the shelf… and, of course, everything in between.
From the 535C through to the 780HT, Bar Crusher's DNA runs strong with the same exclusive technologies and construction techniques used throughout the range. All of our boats incorporate the strakeless Waveslicer deep-V hull for a smooth ride and awesome following-sea performance; expertly-engineered Rigideck sub-floor system (think of the honeycomb structure of an aeroplane wing and you'll get the picture) for maximum hull strength; and Quickflow water ballast technology for excellent stability at rest. The latter is one of the most recognised distinguishing features of Bar Crusher boats.
To explain Quickflow's purpose, here's a quick boat-building lesson: most boat design is a compromise. Flatter hulls provide great stability at rest, but pound and bang in rough conditions; whereas deep-V hulls can handle the rough stuff, but are typically very rocky at rest.
Our water ballast system delivers the best of both worlds.
A cavity running the full length of the keel, open at the transom, fills with water when the boat stops and lowers the chines into the water for increased stability. The moment the boat accelerates, this water ballast is jettisoned from the hull and the deep-V hull does its job to eat up whatever's thrown its way. We've worked hard to perfect Quickflow to ensure there's no lag when accelerating – just a smooth and fast transition onto the plane.
Bar Crusher boats are loaded with fishing-related features. From the Game Lock coaming and secure toeholds (for a comfortable fish-fishing position), through to rod holders, baitboard, live bait tank, berley bucket and muncher, rocket launcher, SARCA anchor and more, our boats are fully-loaded Fishing Weapons. While other boat manufacturers often charge for these items as 'extras', our philosophy has always been that people are going to want them anyway, so the boats leave the factory with it fitted as standard.
There's also the option to personalise your Fishing Weapon and our online boat builder allows you to do exactly that.
SETTING THE PACE
Driven by innovation, our research and development team is tireless in its efforts to set new standards in plate aluminium boat design and performance. This has seen countless design improvements and advancements in construction techniques over the past couple of decades; some of them subtle, and some of them glaringly obvious – like our innovative Gen2 hull design.
Introduced around 10 years ago, the Gen2 hull combines key features including a wider negative chine running forward, optimised wider chine aft and the distinctive Delta Flare – a complex V-shaped planing plank that starts wider at the transom and narrows as it runs forward. Every aspect of the hull combines to deliver greater hydrodynamic lift for more efficient planing and improved fuel economy, a higher bow attitude and better spray deflection for a drier ride, as well as increased stability at rest.
Extensive testing has proved the 535, 575, 585 and 615 hulls received significant performance benefit from the next-generation design, while the larger 670, 730 and 780 hulls continue to be built on our high-performance deep-V hull.
Our Bar Catch launch/retrieve system is another innovation that has revolutionised people's boating experiences. The simplicity and ease-of-use of the Bar Catch (another standard feature of every Bar Crusher boat package), allows for single-handed launch and retrieve, no matter what size Bar Crusher you own.
As one of the few Australian boat builders fortunate enough to have people within our ranks who are passionate and experienced anglers/boaters, many of the design improvements have come from within the business. That said, we also value customer feedback and regularly take onboard owners' suggestions, then determine the feasibility from production and performance perspectives. If it's possible and if it passes our rigorous testing, it goes ahead!
Every industry has a leader – and a successful business is more than just having a good product. From our state-of-the-art manufacturing facility, to powerful branding and marketing, to our national dealer network and exceptional aftersales support… everything within Bar Crusher (just like our boats) is part of a very well-planned business strategy.
PREMIUM QUALITY
After 20 years of focusing solely on building plate aluminium boats, we feel we have it down to a fine art.
(We're not a mass-production tinnie manufacturer that also dabbles in building a few plate boats… we've only ever built plate boats, so with that comes a level of insight and experience matched by few others.)
Professionally engineered and built from the highest-quality materials, our experienced and devoted team's attention to detail is evident in every Bar Crusher boat. Every feature has been carefully considered for its performance, practicality, versatility and, importantly, durability.
We use Australian high-tensile 5083 marine grade plate aluminium, precision laser-cutting robotics, and highly-skilled welders using the best equipment available. All stainless steel fittings (316, rather than cheaper 304) are insulated from the boat with plastic washers or insulative grease products, and hinges and panels are high-tech fibre reinforced composite to provide many years of service. Toughened safety glass is used for the windscreens in the cuddy cabin and hard top boats, with heavy-duty acrylic used on the open boats.
The marine environment is unforgiving on equipment and this has always been front-of-mind at Bar Crusher. Our factory fit-out team uses tinned wire, quality switches and fuse boards, and glue-filled heat shrink to cover connections to lock-out the salt air. It's these little things (the things many boat owners don't think about, until they have a problem), we've always gone the extra mile to do to ensure many years of hassle-free boating and fishing.
Safety on the water is also paramount, which is why every Bar Crusher boat is equipped with our SafeTank™ advanced fuel system. This fuel system is world-renowned as one of the safest boat fuel systems on the water, and we've recently updated it with an additional fuel filler and fill-stop valve.
Our unwavering focus on quality extends right through to the one of the most important (yet regularly overlooked) aspects of any trailer boat – the trailer. Every Bar Crusher boat is factory-packaged on a custom-designed, Australian-made Easytow trailer. The result is a perfectly-balanced package that makes towing safe and easy, and ensures the boat always self-centres and aligns at the ramp.
EXCEPTIONAL VALUE
Like anything: if you want quality, you have to pay for it. It's as simple as that.
Value extends far beyond the price you might pay for something. It's the pleasure a quality product brings, the longevity it delivers and the value it adds to your life. For anyone serious about fishing, this is the true value of a Bar Crusher boat.
In a similar light, the resale value of Bar Crusher boats on the used market is unmatched by any other brand. We believe this is testament to the build quality and performance of every Bar Crusher – no matter the miles it's travelled, the places it's been, or the fish it's helped its owners catch!