Compact sportsfishers
8 November 2006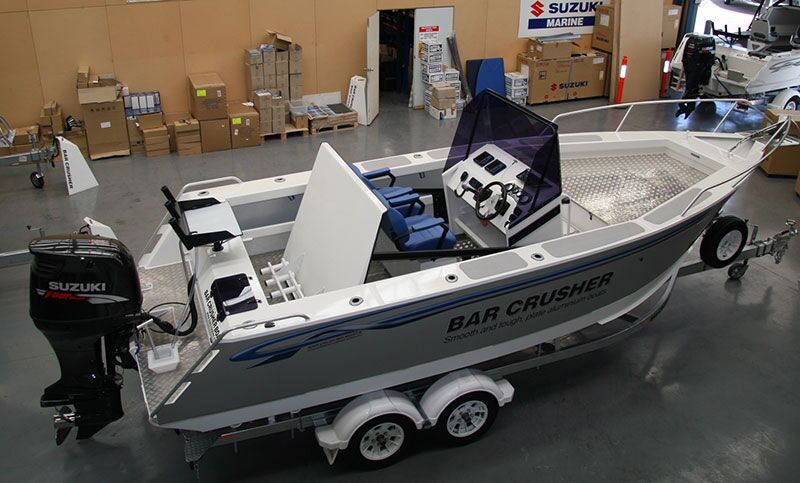 Owning one of the best sportsfishing boats available is the dream of many anglers – storing such a rig, on the other hand, can prove a nightmare… unless you own a Bar Crusher.
The company's practical thinking and superior engineering expertise eliminates the common problem of trailerable sportsfishing boats being too big to store in the average garage.
Just as each of Bar Crusher's cuddy cabin models has a folding roof, reducing the on-trailer height by a metre, the sturdy T-top of the new walk-around series folds down into the cockpit for low-profile towing and storage.
Bar Crusher's Peter Cleland said the innovative design feature was just another aspect that put the company and its boats even further ahead of the pack.
"We really take onboard the things people say they want in their boats – it's about being market driven and designing boats that fit peoples' requirements," Peter said.
"While we don't custom-build boats, we do work hard to build a range of fully-featured boats and allow customers to tick all the boxes."
As well as eliminating storage issues, folding down the T-top when towing long distances ensures much better fuel economy. While cheap vinyl or canvas tops perform the same function, they don't compare with the extremely durable, purpose-built aluminium roof system used on Bar Crusher boats.
"As boaters and anglers ourselves we test things on the water to discover what works and what doesn't, which is why Bar Crusher customers love our boats," Peter said.
"The functional T-top of Bar Crusher's 530WR, 560WR and 640WR takes just a minute to fold down – it's as simple as loosening a couple of handles, dropping the T-top and sliding it away!"
Further information: Bar Crusher Boats – (03) 9792 2999 or visit: www.barcrusher.com.au