Bar Crusher joins forces with Australian angling stalwart
16 October 2009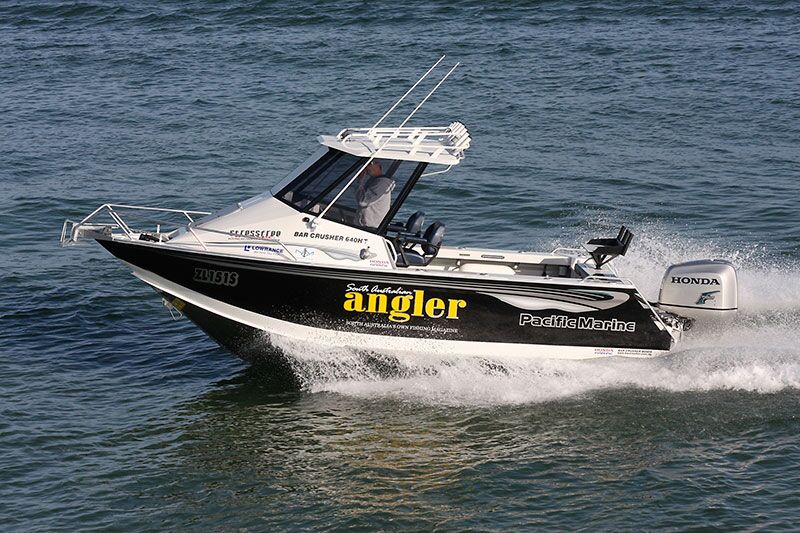 Respected outdoor journalist, author and editor Shane Mensforth has taken delivery of a new Bar Crusher 640HT, which will be his magazine's – SA Angler – project boat for at least the next two years.
Powered by a Honda BF200, fitted with Lowrance HDS electronics and packaged on an Easytow trailer, Shane said the Bar Crusher / Honda project boat was the "most ambitious and most exciting" package he'd put together in the past two decades.
"I started looking for a new boat early in 2009 and did a mountain of homework before making the final decision," he said.
"With a heap of long-range work on the agenda, especially wide of Port Lincoln, we needed a rig that would take us to the offshore reefs and islands and back again – safely and economically.
"We do a lot of fishing for southern bluefin tuna, samson fish, sharks and yellowtail kingfish, most of which are found a long way from port, so the boat had to offer a big fuel range and the sort of performance we could rely on if we got caught in bad weather."
After testing a lot of craft in the size range and style he had in mind, Shane said he climbed onboard the Bar Crusher 640HT on a nasty day off Adelaide and knew from the outset this was the boat he needed.
"Soft ride, exceptional stability at rest and super tough construction were the stand-out features and, as far as a powerplant was concerned, the Honda BF200 was the obvious choice," he said.
"Honda is the perfect power match for the Bar Crusher hull and one we will be relying on heavily during our offshore sorties."
(The 640HT, later to become known as the 680HT following CE Certification, has since been replaced with the 730HT.)
Further information: Bar Crusher Boats – (03) 9792 2999 or visit: www.barcrusher.com.au