Bar Crusher flexes its muscles at Mandurah
30 September 2013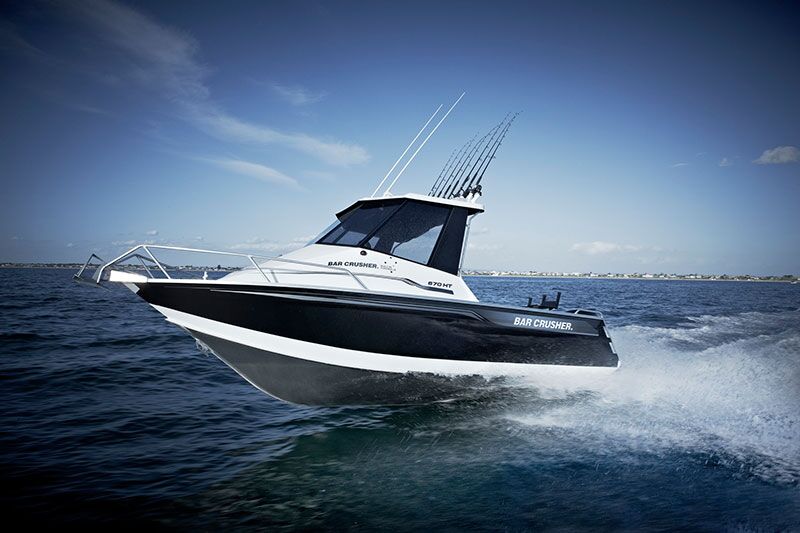 Bar Crusher will have a strong presence at the Mandurah Boat Show with a dozen boats on display from its WA dealers.
The 780HT, 680C, 680WR, 670HT, 670C, 615HT, 615C, 615WR and 575C will all be available at the show.
Making its Mandurah Boat Show debut, the new Bar Crusher 615 Gen2® – with the C (cuddy), HT (hard top) and WR (walk around) versions on display – is destined to turn plenty of heads. Launched earlier this year, the next generation hull combines key features including a wider negative chine running forward, optimised wider chine aft and the distinctive Delta Flare® – delivering greater hydrodynamic lift for more efficient planing and improved fuel economy, a higher bow attitude and better spray deflection for a drier ride, as well as increased stability at rest.
Measuring 6.15m LOA with a 2.25m beam and constructed from high-tensile 4mm (bottom sides) and 3mm (top sides) commercial marine grade plate aluminium, the 615C, 615HT and 615WR are each rated to carry up to a 150hp outboard, have 140L fuel capacity and incorporate all of the functional fishing features for which Bar Crusher is renowned.
Bar Crusher's 780HT and 670HT – both awarded the title of Australia's Greatest Boat in Trailer Boat's annual shoot-out – will also command a lot of attention from boat show visitors.
Bullet-proof offshore fishing machines for hardcore anglers, these Fishing Weapons each feature a toughened safety glass windscreen and all-weather hard top that allows full standing room and an unobstructed 360 degree view from the helm, while deluxe helm seats are mounted on top of heavy-duty seat boxes with convenient tackle storage. The comfortable bunk arrangement provides accommodation for overnight trips.
The hard top configuration and fold-away rear bench seat creates a huge cockpit fishing area, the functional helm station allows for installation of the latest large-screen marine electronics, while the fully-welded checkerplate deck is extremely easy to clean after a solid day on the water. Strong aluminium rod holders, livebait tank, in-floor fish storage tank, berley bucket, large-volume storage pockets, rocket launcher, baitboard, and optional deck wash and anchor winch are among a long list of fishing-related features.
Built in Australia, all Bar Crusher boats incorporate exclusive design technologies – high-tech Waveslicer® non-pounding, deep-V hull for an ultra-smooth ride; expertly-engineered Rigideck® sub-floor system for maximum hull strength; and Quickflow® water ballast technology which ensures the boat is extremely stable at rest.
Further information: Bar Crusher Boats – (03) 9792 2999 or visit: www.barcrusher.com.au